Deal of the Day: comfy Citroen C3 dips under £170 per month!
Grab a bargain lease on this fantastic supermini – and for only £1,500 up front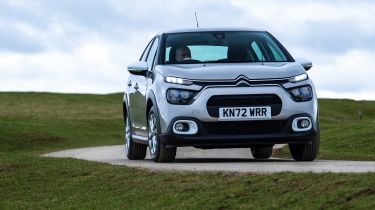 Just £169.94 per month on a two-year deal
Reasonable £1,529 advance payment
Adapt the deal to suit your needs
Citroen has just revealed an all-new, all-electric Citroen e-C3, but there are cracking deals to be had on the current petrol car. Practical, efficient and comfortable to drive, there's plenty to like about the brand's outgoing supermini, not least some very tempting lease deals.
Right now, the Citroen C3 is available for just £169.94 per month on a two-year lease deal via Select Car Leasing, you can even order online. You'll need to make do with the entry-level PureTech 83 engine and a manual gearbox, but it's not the most basic 'You' specification. This 'Plus' model brings goodies like cruise control, LED headlights and a reversing camera, not to mention a touchscreen with Apple CarPlay and Android Auto connectivity.
There's a choice of colours and interior trims, and you can add sat-nav for £13.71 per month. We wouldn't bother though, as that aforementioned phone connectivity allows you to run Google Maps or Waze through the seven-inch screen without the need to upgrade
That figure of just under £170 per month comes after a nine-month advance payment of £1,529.46 – but if you extend that to 12 months (£1,864.56 up front) the monthly price you'll pay drops to £155.38. In fact, a number of the terms are adjustable depending on your needs: you can extend the lease to a four-year deal, and up the mileage cap from 5,000 to 30,000 miles if that suits – but doing so will increase the price you pay.
You can also add maintenance – including servicing and tyres – for a fixed monthly fee, which for the base deal stands at £29.14 per month. Be sure you need it though – that adds up to almost £700 over the two-year deal, and you'll probably only need one service in that time. It's unlikely that you'll need to change the tyres due to wear, either.
So if you're not ready to make the switch to an electric small car, or can't wait for the forthcoming Citroen e-C3, then this petrol supermini could be just the ticket.
As with all our deals of the day, our experts have spotted this great deal on a car we like that we're happy to recommend. Terms and conditions will always apply, deals are subject to availability and prices are subject to change.
Get the Citroen C3 deal here or take a look at our previous Deal of the Day...