Deal of the Day: Vibrant Vauxhall Corsa is a bargain at £180 per month
Brand new, in-stock Vauxhall Corsa for just £180 a month is our deal of the day for 27 October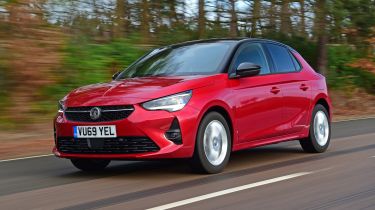 £180 per month
24-month lease deal
Generous-spec GS model
The Vauxhall Corsa has always been near the sharp end of the new sales chart in the UK, and with the latest version being miles better than the car it replaced, along with the recent demise of the Ford Fiesta, it's not hard to see why it's one of Britain's best selling cars. 
Vauxhall has always delivered good value for money, and this deal from leasing specialists Leasing.com is no different – offering a generous GS spec petrol variant of the Corsa from £180 per month. A car which is currently in stock and ready to be delivered. 
The Corsa is an ideal urban runaround, which offers a convincing blend of performance, economy, comfort and driving pleasure; but be aware that this 24-month lease deal comes with a 5,000-mile a year limit and a £1,619 up-front payment. 
The GS is Vauxhall's mid-tier spec and comes with all the kit you really need: parking sensors, LED headlights, 7-inch digital dash, cruise control, alloy wheels, Apple CarPlay and Android Auto, as well as all the safety features you'd expect.  
The 1.2-litre turbo petrol unit is peppy around town, but doesn't feel out of its depth when speeds start to climb. Power delivery is smooth and predictable and merging onto faster roads shouldn't be a problem, with the 1.2-litre petrol unit producing 205Nm of torque and 0-62mph being dealt with in 9.3 seconds
The styling may not be as sharp as the Peugeot 208 on which the Corsa is based, but the interior is neatly laid out, there's plenty of on-board tech and it's comfortable and refined throughout – although, rear space and boot room isn't the best compared to its rivals. However, with a short 24-month lease deal and a list price (P11D) of £20,020, this is a really good deal. 
By way of comparison, Vauxhall's website is currently showing a PCP finance deal for the same car – over 48 months with 6,000 miles per year - with a monthly payment of £229 after a customer deposit payment of £3,218.44 on top of a £2,750 Vauxhall deposit contribution. If you want to own the car at the end of the term, you'll have to pay £9,702. Alternatively you can just hand the car back.
As with all our deals of the day, this is a great deal on a car we're happy to recommend and is independently chosen as a deal of the day. Terms and conditions will always apply, deals are subject to availability and prices are subject to change.
Get the Vauxhall Corsa deal here or take a look at our previous Deal of the Day...