Citroen tackles C4 Picasso suspension issues
Customers complained to BBC Watchdog of poor ride after gas escapes from air suspension system on rear wheels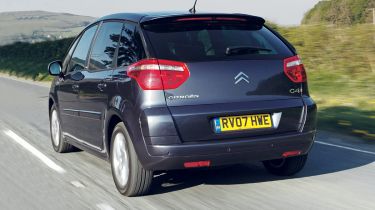 Citroen has agreed to cover 80 per cent of repair costs to air suspension systems on the previous generation Citroen C4 Picasso, after the problem was highlighted by a number of owners.
The BBC's Watchdog programme reported that numerous owners had complained of the ride suddenly becoming bumpy on their previous generation C4 Picassos specified with air suspension. When they then told Citroen, most owners were told that it was wear and tear and they would have to cover the costs.
The problem occurred due to the housing for the air suspension being made of rubber and degrading over time. This caused air that is encased in it to escape.
• CCTV camera car ban part of new fair deal for motorists
Citroen told the Watchdog programme: "It is important to note that the air springs on selected versions of previous generation C4 Picasso models are wear parts. Like all moving components in any suspension system on any car, they are subject to natural wear and tear. As a result, the rate at which they degrade will vary based on the age of the individual vehicle, mileage and conditions of use."
However, following the complaints highlighted by the programme, the manufacturer agreed that it would cover the majority of repair costs for any cars up to 10 years old and 120,000 miles from the date of registration.
The company also stated that the fault would be detected automatically with a warning light appearing on the instrument panel, and that if a driver sees this, they should take the car to an authorised Citroen repairer.
• Crackdown on illegal foreign cars pays immediate dividends
Citroen has also assured owners of the latest C4 Picasso model, launched in 2013, that it is built on a completely new platform designed exclusively with steel spring suspension and isn't affected by the issue.
Finally, customers who have already had work carried out or who require further information are asked to call the Citroen Contact Centre on 0800 3288 141 or to email cuk_contactcentre@citroen.com.
Have you been affected by the Citroen C4 Picasso suspension issue? Let us know in the comments section below...