Citroen C4 to be axed 'soon' following C4 Cactus facelift
Citroen's C-segment hatchback will go out of production in the coming months, bosses have revealed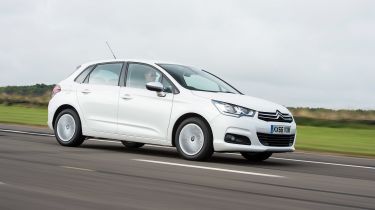 Citroen will call time on the ageing C4 hatchback in the coming months, the French brand's boss has confirmed.
On stage at the reveal of the newly facelifted C4 Cactus, Citroen CEO Linda Jackson said that the C4 would be discontinued "in the coming months", with the C4 Cactus to become the firm's sole C-segment offering for now.
• Best family hatchbacks on sale 2017
The C4 serves as a direct rival for the likes of the Ford Focus and the Vauxhall Astra, and with the facelifted C4 Cactus now positioned closer to those cars with a makeover framing it as more of a C-segment hatchback rather than a crossover, the ageing C4 will finally be squeezed out.
Though not out of production yet, Citroen planning boss Xavier Peugeot said that the firm would stop making the C4 "soon", adding: "The current C4 is already nearly seven years old, so you understand that we had to make a decision, and C4 Cactus will take the lead." As such, it's likely time will be called when the new C4 Cactus hits showrooms early next year.
Citroen will rely on the C4 Cactus to lead the C-segment line for at least the next three years. Introduced in 2014, that would give it a similar lifespan to the soon out to pastures C4 ahead of a new generation C-segment model arriving in 2020.
"We will have to bring to market, after C4 Cactus, another car which brings the Citroen values", explained Peugeot.
"I can tell you something that the next generation C-segment offer, successor of C4 Cactus, will have to remain different. We have to remain original."
Can Citroen compete in the C-segment with the C4 Cactus alone? Tell us your thoughts in the comments.