Opel GT: Buying guide and review (1968-1973)
A full buyer's guide for the Opel GT (1968-1973) including specs, common problems and model history...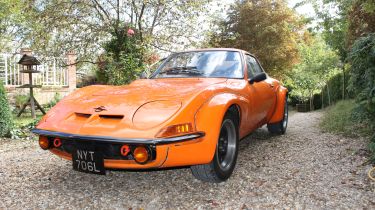 Fancy a Corvette but can't afford one? Then how about one of these cut-price sportsters instead? At least that's what we all said in the 1970s. Designed by Corvette stylist Clare Makichan, the GT was Opel's first two-seater sportscar since 1924.
The GT was first displayed as a concept car at the 1965 Frankfurt Motor Show. It was launched in 1968 as a sportscar for the younger driver, fitted with either a 1.1-litre or 1.9-litre four-cylinder Kadett engines mated to a four-speed gearbox. Up front there was independent suspension and retractable lights to boost the car's sporting credentials.
With a kerbweight of 940kg, the 1900GT could achieve 115mph – far from slow for a reasonably priced sports car of its time. It was marketed under the slogan 'Nur fliegen ist schooner' ('Only flying is more exciting') and became a hit, with more than 103,000 built by the time production ceased in 1973.
Technically there's little to get excited about; the running gear did come from some of GM's more prosaic models after all. But who cares when you've got those looks? The chiselled nose, swoopy curves and perfect proportions made the Ford Capri look so unbelievably conservative in comparison.
You'll struggle to find an Opel GT for sale in the UK though, as they're so rare here; just 148 were imported, all left-hand drive. But if you want a quirky classic and you're lucky enough to find a good Opel GT, snap it up before somebody else does.
Which Opel GT to buy?
Of the 103,463 GTs built, by far the rarest is the 1100 version. As a result – even though it's easily the weediest one of the lot, this is also the most collectible. The GT/J is the next rarest, with 10,760 built, but this is mechanically the same as the GT, which is by far the most common of the breed, with 89,130 rolling off the production lines.
The GT features a 1.9-litre engine and is the most lavishly equipped of all the models; the GT/J, or Junior, has black trim instead of chrome. As a result it looks a bit sportier but it also features more basic instrumentation – but the reality is that as long as you're buying a 1.9-litre car it'll have decent performance, will feel sporty to drive and it'll be comfortable too.
Whichever you buy you'll pay much the same whatever the spec – these cars are usually priced according to their condition. If nicely done some modifications aren't necessarily frowned upon – even if it's a non-GM engine swap – but the work has to be done well. All GTs were left-hand drive but some have been converted to right-hand drive; check the quality of any work done.
There's not much to choose between US and European variations on the theme. The 1.1-litre engine wasn't offered in the US, with federal cars also usually lacking anti-roll bars or a heated rear window. European cars could be specified with a radio, three-speed automatic gearbox, fog lights and a passenger-side door mirror. Also available on both sides of the Atlantic was a ZF limited-slip diff, which is rare and sought after.
Opel GT performance and specs
Engine
1897cc, four-cylinder
Power
88 bhp@ 5100rpm
Torque
110lb ft @ 2500rpm
Top speed
116mph
0-60mph
11.0sec
Fuel consumption
25mpg
Gearbox

Four-speed manual/Three-speed auto

Dimensions and weight
Wheelbase
2431mm
Length
4113mm
Width
1580mm
Height
1225mm
Kerb weight
970kg
Opel GT common problems
• Rust: as you'd expect, bodywork corrosion can be a major issue, so check all of the usual places such as the sills, floorpans, valances and wheelarches. The key is to check inside the front wheelarches where there's a structural bulkhead above and a horizontal ledge just inside. If these have rotted – and they tend to – you'll have a major restoration on your hands.
• More rust: also look for rust in the rear panel and around the fuel filler. Finding panels is very hard and because these cars were hand-finished when new, everything will need some fettling to make it fit perfectly.
• Engine: the 1.9-litre cam-in-head engine will easily last 150,000 miles as long as it's serviced. Running the engine on unleaded petrol without modification or additives shouldn't cause problems, but if there is any damage just fit the head from a Manta GT/E, which was designed to run on unleaded fuel from 1983. Some 1968 cars got a high-compression head while from 1971 the ratio was lowered for US cars, cutting power in the process to just 83bhp.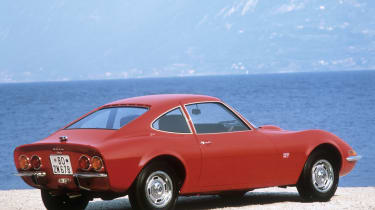 • Powerplant swaps: engine swaps aren't unusual; even a Rover V8 can be fitted. More common transplants include the fuel-injected 2.2 or 2.4-litre engines from the Carlton (1984-1986) or Frontera; it's possible to take these up to 2.7 litres. The injection means adding fuel lines and wiring, but it's possible.
• Timing chain: a noisy timing chain is common, but there's no cure as such – you just have to live with it. Once an engine is worn, expect the usual signs such as knocking crankshaft bearings, a smoky exhaust and rattly valve gear.
• Powertrain: the rest of the running gear doesn't really give any cause for concern as it was taken from the Opel parts bin. The gearbox was sourced from the Ascona/Manta, or the Kadett in the case of the GT 1100. The brakes were taken from the Kadett/Chevette although the pads are interchangeable with those from the Volkswagen Polo or Jetta.
• Interior: the interior was almost completely bespoke for the GT – some of the gauges are interchangeable with other Opels, but that's it. Dashboards crack after years of exposure to the sun, as do steering wheels – especially on US cars. Decent replacements are very hard to find.
Opel GT model history
1965: The Opel GT is shown in concept form at the Frankfurt motor show. It features a Rekord 1.9-litre engine, pop-up headlights and is based on a Kadett floorpan.
1968: The production GT goes on sale, now with revolving headlamps. The floorpan, engine, gearbox and running gear are all taken from the Kadett or Rekord. There are 1.1 or 1.9-litre engines, the former variant getting smaller brake drums at the back and a lower final drive ratio – but the two cars have identical bodywork and trim.
1971: The GT/J is introduced, with simplified instrumentation, trim and exterior brightwork. It's offered in 1.9-litre form only, the 1.1-litre engine having been canned by this point.
1973: The GT is killed off as tougher US impact regulations come into force; it's not worth GM engineering the car to pass, as sales have already slowed to a trickle.
Owners clubs, forums and websites
• www.opelgtsource.com • www.opelgt.com • www.opelclub.com • www.vboa.org.uk
Opel GT summary and prices
Today, the baby Corvette is still great value, but prices are only going one way. While you might find a project car from £1500 in need of lots of welding and a respray, runners start from £4000, rising to around £9000 for something in good shape. The very best examples have been known to push £15,000 on the European market.