Dacia Sandero vs rivals
The UK's cheapest new car, the Dacia Sandero, goes head-to-head with three great-value rivals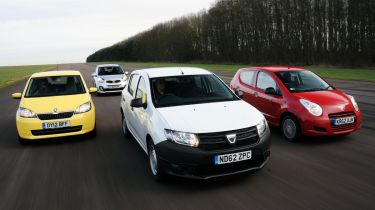 Supermarkets have been selling value-branded products for years, but it has taken until now for car manufacturers to cotton on to the idea. Leading the charge is Dacia, which is already forging a strong reputation with its no-nonsense Duster off-roader. Now it's the turn of the Sandero supermini which, at £5,995, is Britain's cheapest car.
Yes, it only comes with the most basic equipment, but this frugal model is promising a new car ownership experience for thousands less than its cheapest city car rivals. So, is the Sandero the ideal motoring antidote to credit crunch Britain? To find out, we pitched it against three top value-for-money rivals.
Our Car of the Year, the Skoda Citigo, is more expensive, but it sets the standard for quality, refinement and practicality, while the Kia Picanto proves that you don't have to sacrifice style and kit when you're saving cash.
Finally, the cheeky Suzuki Alto is currently available with a VAT-free deal, reducing its entry price to within a fiver of the Dacia's.
Verdict
If this verdict was based purely on the bottom line, the bargain-basement Sandero would be the winner. No other car is cheaper for buyers wanting a new model that gets your family from A to B.
But there's more to this test than list price – and as a result the Dacia struggles to make a strong case for itself. It's old-fashioned to drive and suffers from a low-rent interior and a miserly kit list. On top of that, its ageing engine emits the most CO2, meaning you'll be lumbered with a hefty bill for road tax each year.
However, it does finish ahead of the Suzuki, which impresses with its keen driving dynamics, but is let down by its tiny boot and cramped cabin.
Second place goes to the Kia, which offers lots of standard equipment and style for the cash. If only it was more engaging to drive. That leaves the way clear for the Skoda Citigo. It's not cheap to buy and can't match the Picanto for gadgets, but is practical, well built and great to drive. On top of that, it's very refined.