DS to launch only electric cars from 2024 onwards
DS will stop building new internal combustion engined cars and only launch EVs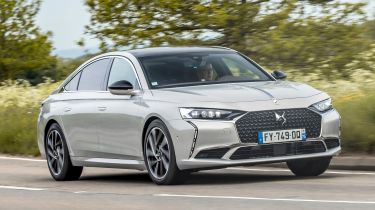 DS has announced that it will stop building new internal combustion engined cars in 2024. From then on, every all-new car the company launches will have a pure-electric powertrain.
The company's UK managing director, Jules Tilstone, made the announcement following the release of parent company Stellantis's half-year financial results for 2021, in which the group reported a record 11.4 percent profit margin globally.
"It's been a turbulent time for the automotive industry, but great to see the Stellantis teams pulling together to deliver such a fantastic result," said Tilstone. "We've also announced that from 2024 all new models from DS will be launched as full electric only."
Currently, DS has just one electric car on sale; the DS 3 Crossback E-Tense. It uses PSA's e-CMP platform and the same 134bhp electric motor and 50kWh battery pack that's found in everything from the ​​Vauxhall Corsa-e to the Peugeot e-Rifter.
However, DS's more recent cars, such as the DS 4 hatchback and DS 9 saloon, are only available with petrol, diesel or plug-in hybrid powertrains.
Both cars are based on PSA's EMP2 chassis. Currently, the platform supports a pure-electric powertrain when it's underneath vans like the Vauxhall Combo-e – but Stellantis hasn't yet converted the EMP2 system for pure-electric passenger cars.
When DS's current combustion engined cars go out of production they'll either be axed or replaced with electric vehicles based on one the Stellantis group's three new electric-only STLA platforms for passenger cars.
Most of the brands in the Stellantis stable will follow the same programme as DS. Fiat will go all-electric by 2030, while Dodge has confirmed it will launch an electric "eMuscle" car by 2024. Vauxhall also aims to go fully electric by 2028, with plans to unveil a production version of the Manta GSe ElektroMOD by 2025.
Stellantis has also secured the future of Ellesmere Port by turning it into a dedicated electric van plant. Read all about it by clicking here…