The best cars we've ever driven
The Auto Express team each pick the top 5 best cars they've ever had the fortune to drive.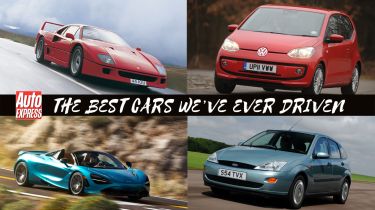 When you're in the incredibly fortunate position of being able to drive cars for a living, it's the question you get asked more than any other. Not; 'Why the #$*&! are you in my parking space?' but; 'What's the best car you've ever driven?'.
Motoring journalists usually have stock answers that they trot out on such occasions. A rose-tinted memory of a great car on an epic road at a particular time that set their neck hairs tingling and their heart rate into uncharted territory, or maybe just a single moment of clarity at the wheel when they realised the people who made a certain car had hit the nail right on the head. 
We wanted to get behind these default responses and find out all about the cars that really stand out for the Auto Express team, along with the moments and stories that explain why. That's how the 'Best cars i've ever driven' series was born. In these pages the Auto Express journalists look back over their careers, and often further into their own automotive histories, to pick out their top 5 greatest drives. 
You'll find a fair number of supercars in the lists but also cars that moved the game forward with their innovation, design or technology, and cars that simply caught our writers at the right place and time to leave an indelible impression. Some of the models are available new today, others are classics from times past that might now be off the pace compared to modern equivalents but still delivered the goods in the moment. What they all have in common is that each one is brilliant in its own way.
Click the menu links to discover the best cars we've ever had the fortune to drive...