What's a hot lap with Kimi Raikkonen in a Ferrari F12 really like?
Our man buckles up for a super-sideways blast around Fiorano with F1 iceman Kimi Raikkonen. Watch the video…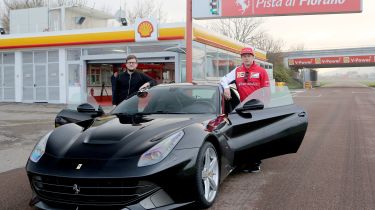 A recent trip to the Fiorano circuit in Ferrari's home town of Maranello, was made even more interesting when we were given the chance of a hot lap with Formula 1 legend Kimi Raikkonen. Watch the video below to get a feel for the action.
As a novice track driver, I'd come along to get some expert tuition in how to handle a supercar from Ferrari's instructors. The day of tuition had gone well, then, over a couple of laps, Kimi Raikkonen proceeded to show me how little I really knew.
• What is the fastest car in the world?
Sitting in the Ferrari F12 Berlinetta beside Kimi I was expecting a frosty welcome and few (if any) words as we hurtled around the track. But I was surprised when Kimi offered up a good line in small talk, asking me how my day had been on the circuit. I explained that I'd made a few errors during my driving but that things seemed to be improving.
As Kimi nonchalantly drifted and slid the 730bhp Ferrari around the track at speeds of up 150mph, I held on for grim death, tried not to look terrified and did the best I could to hold up my end of the conversation. We chatted about the track and his driving before I ended up sounding like a hairdresser enquiring as to where he was going on holiday.
Chris and Kimi lap Fiorano: second-by-second video breakdown
00:00:28 – Without even looking at the track and while chatting to me, Kimi shoots out of the pit area and hurtles towards the first corner.
00:00:56 – I get my first idea of what the next two laps is going to be like as we power-slide around a corner I'd been tip-toeing around all day in the F12.
00:01:07 – As we approach the bridge, the crash barrier looms in to view and seems to be getting very close, but a quick flick of the steering wheel and we shoot past it.
00:01.19 – Battling the g-forces, I attempt to ask Kimi if he likes the technical Fiorano track. What comes out is, "Do you like it around here?" as if it's some kind of holiday destination.
00:01:51 – As we exit a corner at around 80mph, Kimi drifts the car one handed. Both my hands are firmly on my legs, gripping ever-tighter.
00:02:03 – Heading down the long straight we reach the highest speed of around 150mph. In contrast, the fastest I managed here was 120mph.
00:02:24 – Kimi explains that his way around the track isn't the fastest, but it is the most fun. I agree with him, but my nervous laughter tells a different story.
00:02:40 – I decide that it's time to tell Kimi that he's "pretty light with the steering." Considering he's been a professional Formula One driver since 2001 – with two years off to do a bit of rallying – he probably already knows that.
00:03:41 – A final nervous laugh as we pull back in to the pits, and it feels like my organs have rearranged inside my body. Despite that, it was a great experience. Thanks Kimi!
Which F1 driver past or present would you most like to take a passenger ride with and why? Let us know in the comments section below...