'With intentionally low production, Ferrari needn't try hard'
Mike Rutherford looks at Ferrari's future plans as the manufacturer celebrates its 70th birthday this year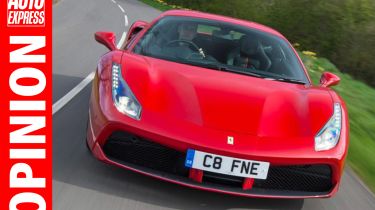 Best-known brand and badge on planet car? It has to be Ferrari and its prancing horse, no? Countless millions have grown up dreaming of owning one. And although rival firms have done their best to make products equally magical, aspirational and desirable, few – if any – have succeeded.
A recently retired employee tells me demand outstripped supply to such an extent that customers for every Ferrari built could be found in a tiny corner of the world: California.
These days, with growing armies of 'new money' clients, it's safe to say Ferrari 'sales' execs have it easy. Less about selling products to buyers; more of customers being able to sell themselves to prove they are wealthy, worthy recipients of a prestigious model.
This year, Ferrari's 70th, will be much like any other. Rich petrolheads who want the cars to drive them, celebs and wide boys craving attention, the mega-rich spoiling themselves, plus investors who don't let the cars see the light of day will all be begging to buy. With an intentionally low (circa 8,000) annual production figure (800 UK-bound), the firm sits so comfortably it needn't try hard.
A current exec shakes his head when I suggest Ferrari might follow Bentley and Rolls into the SUV sector. His reaction to those who say complacency might be creeping in at the new-look, Sergio Marchionne-led brand? "Not guilty. Ferrari is the bullseye."
He welcomes Audi's arrival on the supercar scene (with the R8), Honda's return (new NSX) and McLaren's latest 570S. They attract a new breed of two-seater customer – and many may well end up buying Ferraris.
It's not all rosy. How much confidence does the swaggering company have left in its troubled F1 team? Sebastian Vettel is one of the best, as he proved in Miami in January with another Race of Champions win. But he deserves much more than a floundering car and a lethargic team-mate.
It needn't and shouldn't have been like this. I personally witnessed, at Maranello and elsewhere, how hard Michael Schumacher worked behind the scenes and on the front line at Ferrari. I cheekily suggested to former boss, Luca de Montezemolo, he should appoint Michael as his number two. Luca thanked me for my "super, super creative idea", before adding it could and would never happen. True enough, as Luca has now been ousted from Ferrari, while Michael fights for his life. I wish the very best to both men... and to Ferrari as it celebrates 70 years.
Would you like to see Ferrari build an SUV? Let us know your thoughts below...