Fiat 500L Trekking Beats Edition 2014 review
The Fiat 500L Trekking is spacious, comfortable and easy to drive. Beats Edition turns things up a notch.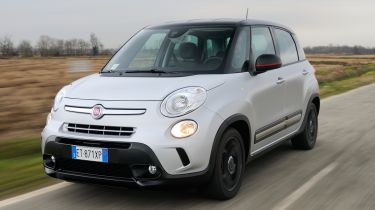 The 500L Trekking isn't much of a looker, but it's spacious, comfortable and easy to drive, while the new diesel engine adds some punch that's been missing from the line-up so far. The Beats Edition turns things up to 11, but you do pay a premium for a bodykit and a thumping stereo. Your back-seat driver would have to be really annoying to justify the extra spend.
Fiat has given its 500L range a subtle revise for 2014. As well as new colours and options packs, there's now a range-topping Beats Edition model based on the crossover-inspired 500L Trekking.
Along with the rest of the 500L range, it can be had with Fiat's more powerful 118bhp petrol or diesel engines.
We tried the latter 1.6-litre MultiJet diesel engine, and while it's not that quiet, it adds some welcome mid-range power that's of real benefit when your 500L is full to bursting with passengers and their luggage.
When you're driving solo, the engine takes a second to respond, but pulls strongly from low revs. There's no point in letting the engine rev too highly, as it quickly runs out of puff, but the extra midrange horsepower helps the car keep up with traffic with less fuss, and less noise, than the 104bhp diesel already available.
It's not a quick car, but it's pretty comfortable. The suspension is raised by 13mm over the normal 500L, which helps give a pretty smooth, supple ride, even over poorly surfaced roads. None of the controls have much feel, and the brakes are overly grabby, but the pedals, gearshift and steering are all light, which makes for an easy drive.
The steering gives a fairly sharp turn-in, which does cause the body to roll quite obviously, so it's better to take it easy in the bends to avoid upsetting anyone else in the car.
However, should your fellow passengers protest, help is at hand. The Beats Edition takes its name from the 520W seven-speaker stereo, which has supposedly been tuned with help from artist and producer Dr Dre, and his BeatsAudio brand.
The sound it produces is a bit flat, but the stereo is easy to use – pairing your phone to stream tracks via Bluetooth is simple – and certainly packs enough punch to drown out a rowdy passenger or two.
However, if a decent stereo is a priority in your chunky MPV, the similarly priced Renault Scenic XMOD with the optional nine-speaker Bose stereo is a better bet.
Aside from the stereo, the Beats Edition also gets some unique styling touches, which help give the 500L's looks a bit more attitude. A two-colour grey and black exterior is standard, including new alloys and black bumper inserts, wheelarch extensions and side sills.
Matt grey paint, as on our car, is optional. Inside, you get plenty of kit as standard, including climate control, some pretty comfy black leather-trimmed seats, and matt grey trim on the dashboard, which all adds a touch of class that's fitting for a new range-topper for the 500 family.