Ford EcoBlue diesel engine to roll out across range
Ford adds more efficient diesel to Transit range, could debut on 2017 Ford Kuga facelift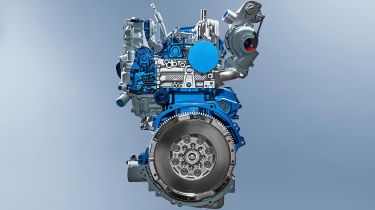 Following the reveal of the updated Transit with a new EcoBlue diesel engine, the Ford has officially confirmed the engine will roll out on future passenger models. 
The engine has been designed to reduce both CO2 and NOx emissions, improve refinement and offer greater performance at low revs. It's the first in a new range of advanced Ford diesels made necessary by increasingly stringent emissions regulations.
• What car the Euro 6 emissions standards?
In an unusual move, the new engine has made its debut on Ford's commercial vehicle, but the company also confirmed that the EcoBlue engines "will power the company's future passenger cars". The most likely candidate to receive it first is the updated Ford Kuga, while the next Focus is also in line. 
Debuting as a 2.0-litre engine in the Transit, the EcoBlue unit uses Adblue urea exhaust treatment tech to reduce particulate and NOx emissions, a sore subject post emissions scandal. Fuel efficiency is also improved by up to 13 per cent in that form. 
Ford claims it is a 'clean-sheet design', with redesigned internals reducing friction and creating a clean-burning combustion system. New fuel injectors apply fuel more accurately, while a less intrusive start/stop system has been added. 
Refinement has been upgraded to a passenger car standard, with a four-decibel noise reduction at idle over the old Transit engine.  Ford of Europe's base engine technical leader, Paul Turner, states the oil-burner was created "using feedback from customers around the world". 
"The versatile design even allows the same block to be used for front-wheel drive and rear-wheel drive applications, and the sophisticated design and technologies deliver future-proofed fuel efficiency and emissions". 
Check out our round-up of the most economical cars on sale...