Ford partners with Lyft to develop autonomous car for 2021
Ford's plans for an autonomous taxi service become a little clearer with announcement that mobility company Lyft is on side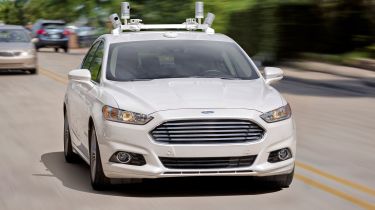 Ford has announced a new partnership with ride-hailing app Lyft, which the carmaker says will allow both companies to develop autonomous driving systems at a faster rate.
Ford says its existing development work and investments in self-driving cars pair off well alongside Lyft's expertise in urban transport and its large pre-existing customer base.
• Self-driving cars: everything you need to know
Last year, Ford confirmed that it is aiming to sell a high-volume self-driving car by 2021, with a view to creating an on-demand autonomous taxi service with the vehicles. The move to partner with a ridesharing company such as Lyft appears to be the next step in the company's autonomous vehicle vision.
Directly with Lyft, Ford will work to create a self-driving technology platform that easily integrates with Lyft's pre-existing network. The two companies will also decide which cities will be most receptive to the service when it launches.
Ford isn't the only car company to invest in Lyft. Early in 2016, General Motors sank £378m into the ride-hailing company, while Uber and Mercedes have a similar agreement in place to that of the new partnership between Ford and Lyft.
Ford has sunk significant investment into self-driving tech over the last year, doubling staff at its Palo Alto Research and Innovation Center. It has tripled its testing fleet in the US, with around 30 Ford Fusion (Mondeo in the UK) cars being used to develop the autonomous tech.
The future self-driving car is planned to have 'level four autonomy', which means it can drive itself on any road without any input from a driver, and won't even have a steering wheel or pedals.
Last year, former Ford CEO Mark Fields compared the tech to the innovations of Henry Ford in the early 20th Century: "The next decade will be defined by automation of the automobile, and we see autonomous vehicles as having as significant an impact on society as Ford's moving assembly line did 100 years ago.
"We're dedicated to putting on the road an autonomous vehicle that can improve safety and solve social and environmental challenges for millions of people - not just those who can afford luxury vehicles."
Ford's path to autonomous cars involves investment and research with several companies specialising in upcoming car tech such as LiDAR, artificial intelligence and mapping including Velodyne, SAIPS and Civil Maps.
Now read our complete guide to self-driving cars.