New Ford Fiesta vs rivals
Can the facelifted Ford Fiesta reclaim its crown? We test it against the Renault Clio and Peugeot 208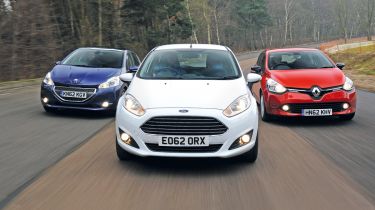 Superminis are big business, and competition in this market is now tougher than ever. Last year, we crowned a new class champion, as the Peugeot 208 narrowly beat the Ford Fiesta thanks to its superior emissions and appealingly low price.
However, Britain's best seller is back. Ford has given the Fiesta a thorough facelift, and introduced a wide range of new engines and an upmarket interior that should help it compete with newer rivals.
Leading these rivals is the latest Renault Clio, which the French carmaker is hoping will revive its ailing fortunes. With looks inspired by the stunning DeZir concept and a slick media touchscreen dominating the more spacious, practical cabin, it should run the Ford close.
Completing the line-up for this test is our favourite car in this sector. The 208 feels like a high-quality product, but faces a real fight to keep its place at the top of the supermini tree.
Verdict
Ford has reclaimed its place at the top with this facelift, improving the Fiesta in almost every single department. The revised looks are sure to split opinion, but the refreshed interior, punchy EcoBoost engine and sparkling driving experience allow it to edge ahead of its rivals.
Although it's not as well equipped or eye-catching as the Clio, there's room for a discount – as is the case with most Fords. So the Fiesta returns to the top of the class with relative ease. But where does that leave our French duo?
The Peugeot 208 probably offers the least in terms of driver appeal, but the plush, modern cabin and eager engine – plus the smoother ride – give it the edge over the Clio, even if it trails the other two cars here for practicality.
The Renault is forced into third place. Its breathless engine and low-rent cabin are at odds with the classy, stylish exterior design. There's lots to like about the Clio, including its value price and fine aftersales package, but in such a competitive sector, it doesn't do quite enough to shine.