Long-term test review: Ford Fiesta ST
Our photographer finds driving our hot hatch hero, the Ford Fiesta ST, more fun than taking pictures
Mileage: 7,359 miles Real world fuel economy: 32.7mpg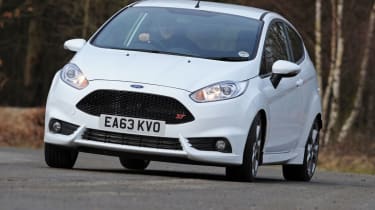 Admit that you're not too fussed about doing your job, and you'll usually be escorted to the door without your feet touching the ground.
However, while I still love taking pictures for Auto Express, since I've taken charge of our Ford Fiesta ST, I've been looking for any excuse to put my camera down and get behind
the wheel for as long as possible.
The Ford Fiesta ST is one of the greatest hot hatchbacks ever made, and as my work takes me to test tracks and
proving grounds across the country, the temptation to go for a spin at any opportunity is too great to resist.
It's true that the Fiesta ST is an absolute blast to drive, and even with a boot full of camera gear on the way to a location, it's very entertaining. When you get there, the nimble chassis and punchy 1.6-litre turbocharged petrol Ford engine mean you can really attack corners and fly down straights.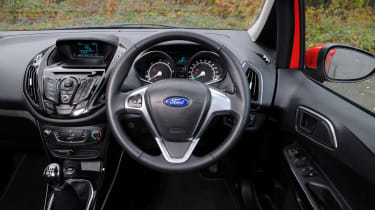 Of course, photography is still my priority, and the ST doesn't sacrifice any of the trademark practicality of the Fiesta in the name of performance. I can stuff all of my camera gear in the boot, and I've only needed to put some kit on the back seats occasionally.
Elsewhere, while the car's firm ride takes a bit of getting used to, once you're in tune with the sporty suspension and make sure to avoid the worst of the ruts and potholes, there's no reason why you couldn't run a Fiesta ST as a daily driver. The Recaro sports seats up front help, too, offering fantastic support and helping to compensate for the ride.
Fortunately, you don't need a test track to make the most of the ST's impressive performance. There's just as much fun to be had going around roundabouts or tackling tight city-
centre streets, thanks to the fast and responsive steering and excellent grip on offer.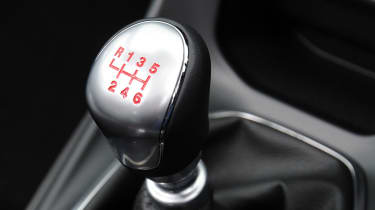 However, I've found that the gear ratios aren't perfect – there's a distinct 'gap' between second and third that can leave you fumbling for the right gear for a given corner. I don't know if this could partially be explained by the Mountune performance upgrade we had fitted, but it's only a minor quibble.
The average fuel economy of 32.7mpg that we've been seeing to date isn't quite as good as we'd hoped, but there isn't really much else to complain about.
In fact, the biggest disappointment is that the car will be leaving our fleet soon, so my colleagues are looking forward to seeing a lot more of me in the near future.
But I'm planning to pack in as many miles as possible before the fiery Fiesta is gone for good.
Ford Fiesta ST: report 2
Mileage: 2,782 miles Real world fuel economy: 30.3mpg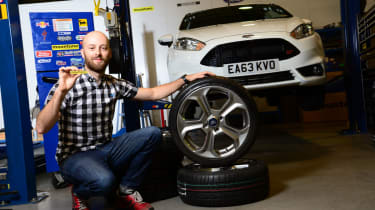 Every hot hatch owner wants to go a little faster, right? One thing we really love about our Ford Fiesta ST is how usable its performance is, but an even quicker version would surely be even more fun to drive?
In the mid-nineties there was a craze for modifying even the most humble hatches and superminis – but DIY tweaking can be tricky, and void your warranty. Luckily, Ford has a long relationship with Mountune, which will sell you a Fiesta ST Performance Kit (covered under Ford warranty) that hikes the power from 180bhp to 212bhp and boosts torque from 290Nm to 320Nm.
This upgrade costs only £599 and can be fitted at one of 150 approved UK dealers. Over the past five months nearly 500 Fiesta ST owners have already bought the Mountune pack, so we wanted to find out what impact it has on the ST's dynamics. Rather than visiting a Ford dealer, though, we decided to go to the company's HQ in Brentwood, Essex.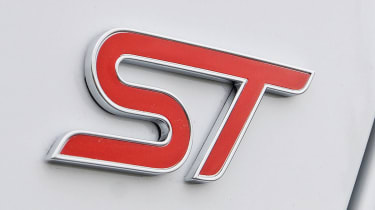 As soon as I pulled into the workshop, I knew the trip had been worth it. Seeing our white ST nestled among iconic sixties' racers, including a GT40 and MkI Escort British Touring Car, reminded me of the rich heritage fast Fords have here. I was excited by the prospect of our car being tuned – and amazed by how many add-ons Mountune had available.
The kit consists of an aluminium airbox with a high-performance filter, plus a power-boosting engine remap. You can take it a stage further with intercoolers, racing brakes, lighter OZ wheels and a quick-shifter, all of which hone the hot Fiesta into an even better track car.
Because the standard supermini is so good to drive, we decided to keep the updates modest – for now at least – but to give the ST a visual makeover, we also had a new set of dark grey alloys fitted, which are a £275 upgrade over the silver rims.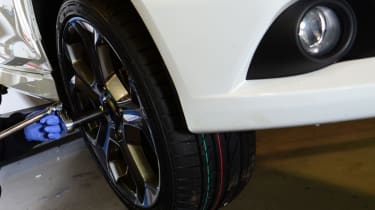 The whole process took less than an hour, and when I got behind the wheel I noticed an immediate change in the car's character. The new airbox gives a harder exhaust note that sounds great, and in second gear the revs climb fast enough to make the traction control light flicker. The handling remains as brilliant as ever, and although there's a bit more torque steer in the wet, in the dry there's more than enough grip.
Now I've put a few more miles on the ST the economy is creeping up, but its 30.3mpg is still well short of the claimed 47.9mpg. Yet the Ford Fiesta ST been more practical than expected, taking a few fully loaded journeys in its stride. And while the upgrade has already impressed, the staff at Mountune told me the engine really opens up after 5,000 miles. I guess I need to plan a few long road trips to make the most of its new-found performance.
Ford Fiesta ST: report 3
Mileage: 1,005 miles Real world fuel economy: 27.3mpg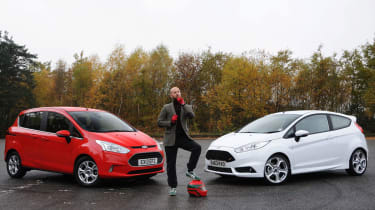 Could it be time for a change? Over the past few months, I've tried my best to bond with our Ford B-MAX, but no matter how sensible the journey, my racy side was always yearning for something more V-MAX than B-MAX.
Rather than swapping into a flash sports car, though, I decided to have a flick through the Ford catalogue. I soon found something that perfectly fitted the bill as the B-MAX's replacement. It even cost the same £16,995 as our faithful diesel MPV: the new Fiesta ST.
Part of the problem with the B-MAX was that my lifestyle didn't suit its practical abilities. Deputy editor and father of two, Graham Hope, put it to the test as a hard-working runaround (Issue 1,276). Yet apart from squeezing in my road bike for day trips to my parents' home in Woodford, Northants, or doing an airport run, I just didn't need the generous space on offer.
Still, while the B-MAX was slow off the line, I liked the Fiesta-inspired driving dynamics. The slick gearshift, supple ride around town and keen steering all made it surprisingly fun to drive.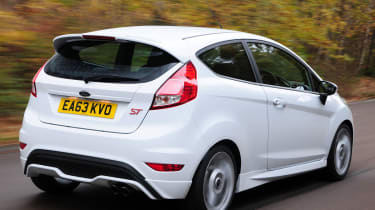 Not that I got to drive it that often anyway, as there was no shortage of colleagues queuing up to borrow the car. It proved particularly popular for road tests, where our photographers found the sliding doors perfect for aking tracking shots at close quarters.
Fortunately, the Ford was returned to me unscathed every time, and no untidy paint scuffs or alloy wheel scrapes were reported during the six months it spent on our fleet – a testament to its compact dimensions and decent visibility.
The only downside was a drop in fuel economy over the final 1,000 miles, which is probably a reflection of how hard the engine needed to be worked when driving long distances.
I'm unlikely to encounter that problem in the Fiesta ST. The best new hot hatch of its generation has only 98cc more engine capacity than our B-MAX 1.5 TDCi, but it delivers an extra 106bhp – so the fast Ford is a huge 9.6 seconds faster from 0-62mph, taking just 6.9 seconds.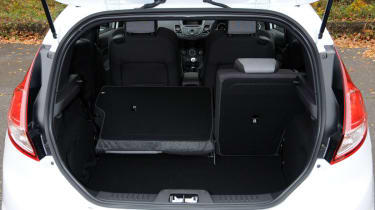 Everything about the ST suits me better. I've driven some great high-performance cars in recent months, but none felt better suited to narrow British roads than the fettled Fiesta. Its firm ride will take some getting used to after its MPV stablemate's supple springs, but it's not as bad as you might think and the pin-sharp handling makes up for this small sacrifice in ride comfort. 
As we chose the entry-level ST in Frozen White, the exterior styling is quite toned down for a hot hatch – so the car's speed off the line has already surprised a few people.
I do think it lacks visual impact, though, and I might add the £275 ST Style Pack. Its grey alloys and red calipers would pump up the Q-car feel.The ST is more than fast enough to keep me entertained for now – but if I do start to crave something extra, there's always the £599 Ford-sanctioned  Mountune power upgrade. Now, if this was offered on the B-MAX...
Insurance quote (below) provided by the AA for a 42-year-old living in Banbury, Oxon, with three points.