Ford Focus RS owners offered free repair for 'white smoke' issue
A problem with the cylinder head gasket is causing some Ford Focus RS owners to encounter white smoke and misfires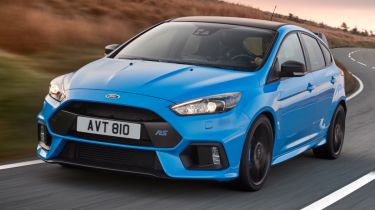 Ford has responded to reports of engine faults and white exhaust smoke on early third-generation Focus RS models by offering owners of vehicles a free inspection and repair. 
Owners can opt in for the voluntary inspection regardless of warranty or mileage status. Ford is currently in the process of contacting owners across Europe and the UK. 
• Car recalls: everything you need to know
The issue relates to the cylinder head gasket fitted to the 345bhp 2.3-litre EcoBoost four-cylinder unit under the bonnet. It's thought that the heat produced by the engine is leading to slight distortions in the cylinder block, meaning that the head gasket cannot seal the block effectively. 
White exhaust smoke is produced by coolant leaking into the cylinders, producing misfires on start-up too. 
Ford says that dealers are being instructed to test the car's cooling system and replace the cylinder head gasket, as well as the cylinder head if deemed necessary, at no cost to the customer. The same 2.3-litre engine is also used in the Mustang, but it's not presently thought to pose an issue here.
Find out where the Ford Focus RS stands in our run down of 2018's best hot hatchbacks here.