'The new Focus proves Ford can still build great cars'
With the Focus back to its best, Ford has shown that it's capable of much more, writes Jonathan Burn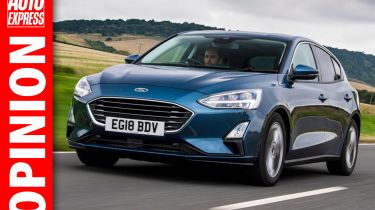 You won't read a more important group test in the pages of Auto Express this year than on Page 34 of this week's issue. The Focus is a staple of Ford's range, always in the UK's list of best-selling cars, and in the Golf and Astra it faces two other titans of the market.
I'll leave you to read our definitive verdict yourself, but I think it's safe to say the new fourth-generation Focus shows Ford is back to its absolute best. It's an excellent family car that packs value, practicality and genuine driving enjoyment into a hatchback.
• Best hatchbacks on sale 2018
In the Focus and Fiesta, Ford has two exceptional cars, both designed and engineered in Europe for European customers. But walk into any Ford dealer and you're faced with a rather conflicting picture, because the rest of the line-up simply doesn't meet the standards set by its hatchback superstars.
The Kuga and Mondeo are feeling and looking their age, while the EcoSport and Edge SUVs were developed under the One Ford philosophy – created for a global market without a specific customer in mind. Neither meets the high expectations UK and European buyers demand of their cars.
And yet while Ford of Europe made losses of 73 million Euros (£65.3m) from April to June, the Focus demonstrates it can still build and engineer brilliant cars; and gazing into the near future, it looks as if the hatch could mark a turning point for the company.
Last week it issued the first official image of the upcoming, fully-electric Mach 1 SUV. The Mustang-inspired model will be on sale in 2020 as one of 16 EVs hitting dealers in the next four years.
If Ford's next generation of cars and fleet of EVs can follow the formula set out by the Focus, there should be an exciting future ahead for a brand capable of doing better than it is today.
Read our review of the 2018 Ford Focus…