Ford Focus diesel review
You can't go too far wrong with a Ford Focus diesel, as all are comfortable and good to drive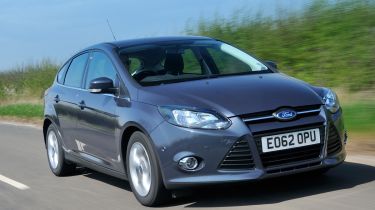 If you're after the best family hatchback to drive, then perhaps a Ford Focus diesel isn't for you (try the Focus ST instead), but for most buyers the diesel version will be a top choice. It's economical and practical - and it's still the best diesel hatchback to drive.
The Ford Focus is one of the best-selling family hatchbacks in the UK, and it's helped by the fact it comes with a range of efficient diesel engines. All cars offer decent build quality, cabin comfort and sharp handling, while it's offered in five-door hatch and estate body styles. Whichever version you go for, if it's powered by a diesel engine, you can expect low running costs and decent performance.
There are two main diesel engine options – a 1.6 TDCi and 2.0 TDCi – with the former available in 95PS, 115PS and 105PS forms, and the latter in 140PS and 163PS guises. The base 1.6 TDCi 95PS only comes in Edge trim, while the 115PS version is in Edge, Zetec, Zetec Navigator, Zetec S and all Titanium models.
The 1.6 TDCi 105PS is exclusive to the low emissions ECOnetic model, which is available I 99g/km and super efficient 88g/km forms. The larger 2.0 TDCi 140PS only comes in Titanium Navigator trim, while the more powerful 163PS engine is offered in sporty Zetec S and Titanium X Navigator models. These are the fastest Focus diesel models at the moment, although Ford has plans to build a high-performance ST diesel to compete with the VW Golf GTD.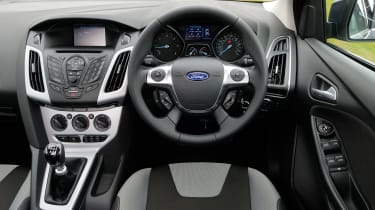 The Ford Focus diesel has clearly been designed with comfort and efficiency in mind, but it's still enjoyable to drive. It's more exciting than a Vauxhall Astra, and definitely on a par with the Volkswagen Golf thanks to its sharp steering, an agile chassis and strong grip. The extra weight of the diesel engine in the nose does little to take away from the Focus' sharp handling, while decent sound deadening means the Focus is quiet at motorway speeds and has decent cabin comfort, while the suspension does a good job of soaking up bumps.
In corners, the Focus is very entertaining, with quick steering and a responsive chassis. It's not quite as focused as past models, but still has an edge over its rivals for handling.
All diesel versions of the Focus emit less than 134g/km of CO2, which is pretty good if you consider how large the engine range is, and these emissions are the same whether you choose the hatchback or the estate version.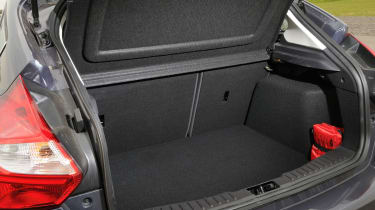 The latest Ford Focus is lighter than ever before and as a result it's cheaper to run. The best car in the range for efficiency is the 1.6 TDCi ECOnetic 88g. As its name suggests, it has tax-free emissions of 88g/km, and also has claimed economy of 83.1mpg. It's only available in basic Edge trim, but the 99g/km engine is offered Edge, Zetec and Titanium Navigator trims.
One of the great things about the Ford Focus is you get lots of equipment and accessories as standard - all for a great-value price tag. Fortunately, the 99g/km Zetec Navigation model adds satellite navigation, DAB radio, Bluetooth and a USB connection.
Due to the popularity of the Ford Focus, you're likely to find plenty for sale on the used car market, while parts and servicing should be relatively inexpensive. However, residuals aren't as good as the Volkswagen Golf and you'd probably be lucky to get even 40 per cent of its value back after three year's time.