New Ford Puma recalled over airbag issue
Delivered cars remain safe to drive but an incorrect component doesn't match Ford's specifications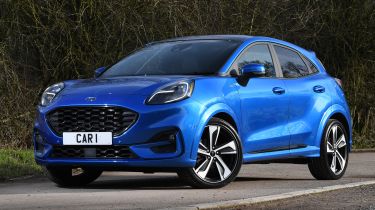 Ford has announced that a batch of the first new Puma models to hit roads in the UK will face a recall, due to an incorrect component within the airbag system. 
A statement from Ford reads: "A number of Puma vehicles have been built with driver's airbag retention springs that may be outside of Ford Motor Company manufacturing specification." 
• New baby Ford Mustang Mach-E to use VW power
Ford says that the airbag mechanism itself still functions, and that the affected vehicles are still safe to drive. The statement continues: "internal tests have identified that under certain conditions it is possible that the airbag is not retained in the steering wheel after it has been deployed." However, the airbag's deployment "will still meet regulatory requirements," and "provides sufficient protection for the driver." To date, no customers have reported any issues.
While Ford couldn't yet confirm how many UK buyers have been affected, it believes that the numbers are small. The cars affected account for two months' worth of a five month production line so far, but only a small number of cars have actually been delivered. 
Buyers waiting to take delivery of a new Puma will experience a brief delay while the fault is fixed. Those who already have their cars will be able to book their recalled Puma into a Ford dealership for a quick 15 minute fix.
Have you ordered a new Puma? Let us know what you think of this recall in the comments below...