More Honda EV concepts on the way
Honda design boss tells Auto Express that more electric concepts are coming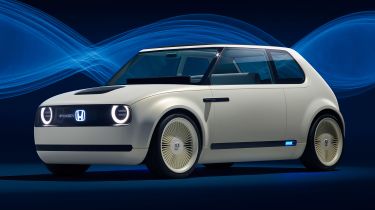 Honda will introduce a number of new electric concept cars over the next few years, the brand's design boss Makoto Iwaki has told Auto Express. The EVs will preview future models, with various iterations on the way.
The news follows the unveiling of the new Honda Sports EV concept at this week's Tokyo Motor Show. The electric coupe previews how an electric Honda sports car could look, but the Japanese brand has not given a firm commitment to when a production model will launch.
• Honda Sports EV Concept unveiled at Tokyo
Regardless, it will be joined by more EV concept cars, as Iwaki-san told Auto Express: "I cannot tell you the exact timing but there will be more EV concepts."
Honda's first EV will launch in Europe in 2019 and be based on the Urban EV supermini concept that debuted at the Frankfurt Motor Show in September. Iwaki-san told us that his team's aim is to try and get the concept into production without many design changes.
"I try to transfer that design 100 per cent but some details will look different," Iwaki-san said. "It's difficult to accurately say how the details will change.
"But body size will be almost exactly the same [as the concept] and we will make the front face friendly so people feel attached. The headlamps design will make that expression - this is a simple design; we try to keep simplicity."
Honda doesn't currently sell any pure-EVs in Europe, though a hybrid version of the forthcoming CR-V is due in 2018.
Are you keen to see more of Honda's EV concepts? Tell us what you think in the comments area below!