Honda to be electric only by 2040 with solid state battery tech coming late 2020s
Battery-electric and fuel-cell only plan for Honda will see solid state battery production cars in the second half of this decade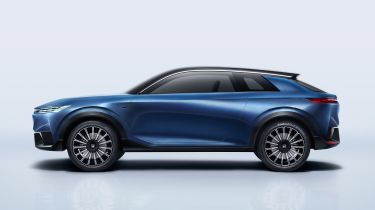 Honda has announced that it is aiming to become 100 per cent battery electric or hydrogen fuel cell powered in "major markets" by 2040. 
As part of a new electrification roadmap, the company says that 40 percent of its sales in the some world's largest markets will consist of either electric or fuel cell vehicles by 2030, rising to will 80 percent by 2035. However, the plan only references North America, Japan and China. 
Key to the electrification push is the development of a brand new electric car platform. Called e:Architecture, Honda will launch a new series of electric vehicles on this new platform in the coming years. EVs using this platform will be launched in North America first, before steadily being diffused throughout the global market. No technical specifications have been announced, but Honda has confirmed that the platform has been developed in-house. 
Honda will tackle its domestic market with an electrification push starting with a pure-electric kei car in 2024. The company also says it will source as much of the raw materials for the car's battery from within Japan to support the local economy.
In North America, the brand has teamed up with General Motors to develop two "large-sized EV models," by 2024, which will use the same Ultium battery technology found in the new pure-electric Hummer. One of these new models will carry a Honda badge, while the other will be branded an Acura. 
Honda also has plans to electrify its two-wheeled business, and says it will launch three new electric motorcycles by 2024. Honda has confirmed for two scooters and a motorcycle, with outputs equivalent to 50cc and 125cc petrol engines. 
However, there's something more powerful waiting in the wings, with Honda teasing it will introduce new electric motorcycles in what it calls the "fun area". Given the brand's current line-up, that could be a replacement for anything from CBR500R to the CBR1000RR-R.
Honda has also committed research and development time into solid state battery technology, which it says will "realise high capacity and low cost." The first prototypes will be completed later this year and Honda says that, by the second half of the 2020s, it will offer solid-state battery packs in all of its new EVs. 
In addition, Honda also aims to become completely carbon neutral by 2050. The company will also introduce a more effective recycling strategy, which will see the firm develop components made from 100 percent sustainable materials. Specific details are yet to be confirmed, although Honda has said the initiative will include its battery packs.
Another ambitious goal which Honda hopes to achieve within the same timescale is for zero fatalities to result from traffic collisions involving its cars or motorcycles, by improving its safety technology and Level 3 autonomous system.
Now read all the latest news on the all-new Honda HR-V here…