New Honda Sustaina-C is an electric city car with its own 'Pocket'
The cute Honda Sustaina-C concept car is partnered with a 'Pocket' EV scooter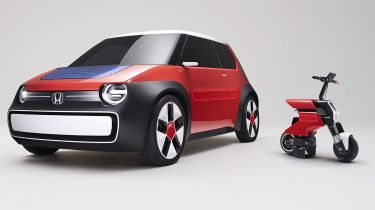 Honda's surprise reveal of the Prelude Concept wasn't the only thing the Japanese firm brought to the Tokyo Motor Show, there was also a little electric city car called the Sustaina-C. 
As the name suggests it focuses on sustainability by using body panels made from recycled and reused acrylic resin. Honda says: "This kind of resource circulation will enable us to transcend the constraints of the limited availability of resources". 
The design of the Sustaina-C borrows some elements from the original City, but it's much closer to the current Honda e. The overall body shape is very similar to the EV supermini and it features lookalike rounded headlights (albeit with the flat-top to give it an almost disapproving look). 
The shape might be similar to the Honda e but the bonnet is more angular and the two-tone paint extends to the wheel arches for a chunkier look. The flat-faced wheels are covered in some very thin tyres to help reduce rolling resistance. 
With a fully-electric powertrain, the Sustaina-C is likely paired with the Honda e's titchy 35.5kWh battery. Hopefully the Sustaina-C can go a bit further than the Honda e's maximum 137-mile range, though. 
Meanwhile, the Pocket Concept is a little electric bike that mimics the iconic Motocompo of the 1980s. Honda says it's designed for "last-mile mobility", with the idea that you chuck it in the back of the Sustaina-C until you need to make a short dash into town centres. In September 2023, Honda announced a successor to the Motocompo with the all-electric Motocompacto.  
Now read our review of Honda's latest production EV, the e:Ny1...