Honda Prelude revived as an electrified coupe
Tokyo Motor Show plays host to Honda's Prelude Concept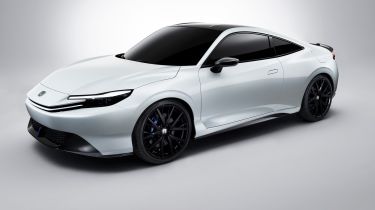 The return of the Honda Prelude sports car has come in the form of a new concept, revealed at this year's Tokyo Motor Show. 
Honda President, Toshihiro Mibe, spoke of the Prelude Concept: "This model will become the Prelude for our future models, which will inherit the 'joy of driving' into the full-fledged electrified future, and embody Honda's unalterable sports mindset." 
Very little has been revealed about the Prelude Concept at this stage. Auto Express understand that it uses a hybrid powertrain, but no technical details have been confirmed. As a hybrid two-door coupe, the Prelude Concept has few direct rivals although this isn't new territory for Honda with the CR-Z hybrid from 2010. 
Instead of the rounded, retro styling of the Honda e and the Honda Sports EV concept from 2017, Honda has given the Prelude Concept a modern look with some design elements shared with its new all-electric SUV, the e:Ny1. 
The front end features a light bar that connects the headlight clusters, which themselves don't look too dissimilar to the e:Ny1's. There's an air duct situated low on the front bumper, and vents behind the front wheels. Unlike the Honda e, the Prelude Concept uses physical wing mirrors, but it does get flush-fitting door handles. 
At the rear there's another full-width light bar, plus a small spoiler. Overall, the Prelude Concept looks pretty much production-ready from the outside, although Honda hasn't revealed a release date for the car yet. 
Honda tells us to "keep our expectations high" for the new Prelude. If it does make production, it would be the sixth-generation of the sports car, while the last model phased out in 2001.
Now find out the latest from this year's Tokyo Motor Show here...