Honda and GM to mass produce new hydrogen fuel cell system by 2020
Honda and General Motors join forces to set-up new Fuel Cell System Manufacturing LLC operation in Detroit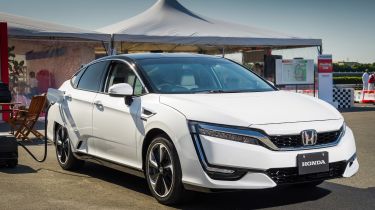 Honda and General Motors have announced fresh details regarding a joint venture to develop a new 'advanced' hydrogen fuel cell system, destined for use in future models from both brands. The companies have revealed mass production of the new fuel cell should begin "around 2020".
The operation will go under the name of Fuel Cell System Manufacturing LLC, and will be located within the site of General Motors' existing battery pack manufacturing plant in Brownstown, Michigan, responsible for developing the batteries for cars like the Chevrolet Volt.
• Hydrogen cars: new Government funding for fuel cell vehicles
The joint venture will almost double the plant's number of employees, creating around 100 new jobs while representing a total investment of $85 million between the two companies.
GM and Honda joined forces over hydrogen in 2013 in a bid to keep development costs down by sharing expertise and hydrogen fuel-cell intellectual property. Toshiaki Mikoshiba, Honda's North American CEO said: "Over the past three years, engineers from Honda and GM have been working as one team with each company providing know-how from its unique expertise to create a compact and low-cost next gen fuel system.
• Moments of clarity: Honda's greatest tech innovations
"This foundation of outstanding teamwork will now take us to the stage of joint mass production of a fuel cell system that will help each company create new value for our customers in fuel cell vehicles of the future."
The next generation fuel cell system promised by the two firms is designed to be cheaper and easier to manufacture. The fuel cell uses far fewer precious metals resulting in a lower cost system smaller and lighter than fuel cells before it.
Last October, Auto Express reported that Honda and GM would develop a hydrogen fuel cell stack and tank, but not a complete car together. Honda also revealed that the two companies have been discussing possible technologies beyond the new fuel cell.
Would you buy a hydrogen fuel cell car? Let us know below…