One-off Hyundai Santa Fe Cabriolet offers open-topped off-roading for 7
Hyundai Australia has taken the covers off its one-of-a-kind convertible Santa Fe SUV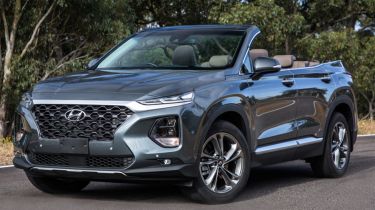 Hyundai Australia has revealed a convertible seven-seat Santa Fe. The SUV was originally built for an advertising campaign and was always destined to be crushed once filming had finished – but not before some Australian journalists at CarAdvice took it for a drive.
The open top Santa Fe comes with all the same bells and whistles of the standard car with the obvious exception of the roof. It still has window blinds, an eight-inch infotainment system (including both Apple CarPlay and Android Auto) and a head-up display. Also included is a heated steering wheel and heated and cooled seats – which you will need as despite being labelled a cabriolet, there's no way of raising the roof to protect you from the elements.
• Range Rover Evoque Convertible review
At the wheel of Hyundai's largest convertible creation to date, you can motor along – with up to six passengers – powered by the four-cylinder 2.2-litre diesel under the bonnet. It produces 197bhp and 440Nm of torque which are passed through Hyundai's eight-speed auto gearbox.
As the Santa Fe Cabriolet is a complete one-off, there will be no mention of pricing and no release date. Interested parties will have to compromise by buying a standard Santa Fe and and angle grinder. However, with the Range Rover Evoque Convertible still going (relatively) strong and Volkswagen developing a convertible crossover of its own, there are other options for buyers who long for a spot of open-topped off-roading. And let's not forget Nissan did the very same thing with the Murano convertible way the back in the naughties.     
Would you buy a convertible SUV? Let us know in the comments below...