Hyundai develops fingerprint recognition system to unlock and start its cars
The system will be available in China from early 2019, allowing buyers to unlock and start their vehicles with fingerprints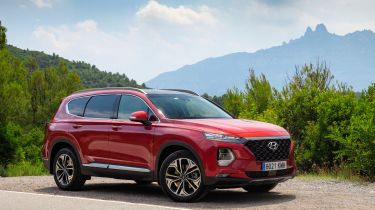 Hyundai has developed a fingerprint recognition system which allows drivers to unlock and start their cars without the need for a conventional key. It is due to be launched in China during the first quarter of 2019 and will appear first on the Hyundai Santa Fe SUV. 
Drivers will register their fingerprint to the car before using the system. Fingerprint scanners in the door handle and on the car's start button will then recognise the driver when used, granting access and starting the engine.
• All the latest in the build to CES 2019
Multiple drivers can register their fingerprints and Hyundai says that the system will automatically adjust the driving position, mirrors, climate control and steering settings according to each individual user.
The system is secured through human capacitance, or natural stored electric charge, to prevent fingerprint forgery and vehicle theft. So, if the fingerprint scanners read the correct fingerprint, but detect no electrical charge, the vehicle will remain locked and the engine will not start.
Hyundai says the system is reliable, with an error rate of one in 50,000. Supposedly, the scanners will resist the sun's rays, and have been built to withstand heat and cold to prevent drivers from being locked outside their cars in extreme weather. 
Keen for more automotive technology news? Read our article on the 2019 Consumer Electronics Show right here...