Hyundai's Genesis brand to arrive in Europe with SUVs
Hyundai's premium Genesis off-shoot launched the G90 in Detroit but new SUVs will be its first European cars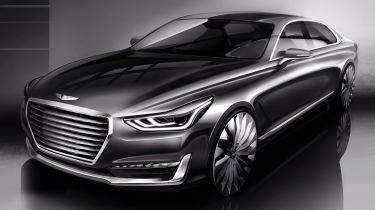 Korea's rival to the Mercedes S-Class, the Genesis G90 from Hyundai's luxury offshoot, got its first airing at the 2016 Detroit Motor Show with bosses promising six more Genesis models by 2020.
Top of the agenda for design boss Peter Schreyer is a range of SUVs to spearhead the brand's push in to the crucial European luxury market, although a G70 coupe will first join the new G90 and existing E-Class rivalling Genesis saloon.
"We will make beautiful SUVs," Schreyer told Auto Express. "Proportions are important to Genesis models, with a long dash to front axle distance, short overhangs, classic premium proportions with the greenhouse sitting far back. It could very well translate into an SUV – there are not so many beautiful ones at the moment, but very short overhangs are important with ramp angles for off-roading."
• Best SUVs and 4x4s to buy now
With its choice of V6 or V8 petrol engines and optional four-wheel drive hardware, the G90 won't be coming to Europe, but Schreyer stressed the need for the brand to go on sale in Europe to gain global recognition. "I want these cars to be successful in Europe too, from the way they are designed," he says. "It depends on the segment – the G90 is a very small market and is not going to Europe so far, but there's a bigger chance for the smaller ones in Europe."
Genesis bosses revealed how they're planning new standards of luxury with four core pillars to the brand: athletic elegance from design, refined performance with outstanding comfort and handling, human-focused innovation and a stress-free customer experience with concierge services. Genesis will also feature a family of new and exclusive platforms and drivetrains.
Genesis will be lead by former Lamborghini exec Manfred Fitzgerald, with former BMW M man Albert Biermann taking care of the cars' dynamics.
Also revealed at Detroit was the new design director for Genesis, Luc Donkerwolke, who joined this month from Bentley. Donkerwolke told us: "I've been really impressed by the team and their passion so far. Starting this brand from a clean sheet of paper was an opportunity that was too good for me to miss."
Schreyer and Donkerwolke have known each other for a long time, with Schreyer saying, "It's good for me to have a sparring partner, someone to look at things together – we have such a big range of cars to do that I'm really happy to have him on board."
Check out all the news from the 2016 Detroit Motor Show here...