Hyundai i10 1.2 Premium review
Four-cylinder engine adds extra appeal to Hyundai i10 city car. We test new 1.2-litre model in Premium trim
Considering how good the VW up!, SEAT Mii and Skoda Citigo are, it's impressive Hyundai has created a car to genuinely trouble them. It's priced to match those models and compares well on quality, too. This Hyundai i10 1.2 Premium is more expensive than the 1.0, but it adds to the i10's grown-up feel. If that's what you're after from your city car, this is the engine to go for.
In our eyes, the Hyundai i10 fitted with a 1.0-litre three-cylinder engine is a five-star car. So is this more powerful 1.2-litre four-cylinder model just as good?
It'll cost you an extra £500 over the smaller engine, which gets you 86bhp – rather than 65bhp – and a 0-62mph time of 12.3 seconds. On paper that compares well to the three-cylinder's 14.9-second time and on the road it feels much more lively.
You can pretty much drive the less powerful i10 around town with your foot pinned to the floor the whole time, whereas this one requires you to be a little more sensible. You wouldn't call it quick, but on city streets you'll never need more pace.
So, the performance is there, but a bit of the i10's character is missing, especially when you consider this engine doesn't sound quite as nice as the three-cylinder.
Instead, this i10 has more of a grown-up feel – and that's actually where this model thrives. Hyundai has worked hard on upping build quality in the cabin, improving ride comfort and boosting refinement in the latest i10, and the results are seriously impressive.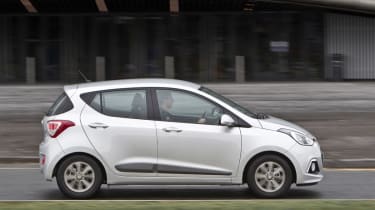 On the road, you get none of the thuds or sharp bumps you'd normally expect from the suspension of a £10,000 supermini – instead it gently cushions potholes and rides smoothly over rough tarmac. And you can easily tackle a motorway journey without having to turn up the radio to drown out deafening wind and road noise. The i10 feels like a car from the class above – and a good one at that.
The cabin is well built and our model had an upmarket feel thanks to the leather steering wheel and gearstick. The door panels and dash are made from hard plastics, but at this price, that's the norm.
Running costs are marginally down on the 1.0-litre engine, but only to the tune of 2.5mpg and £10 extra a year in road tax. Considering how grown-up this 1.2 feels, it's more in keeping with the i10's premium feel than the 1.0, so we'd pay the extra £500 willingly.