Hyundai reveals 2017 i20 Coupe World Rally Championship car
New i20 Coupe WRC shows off its aggressive new looks for 2017, with an extra 80bhp to match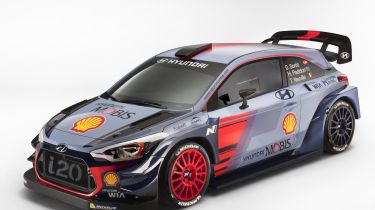 Hyundai has lifted the lid on its latest rally car – the i20 Coupe WRC built to compete in the 2017 World Rally Championship.
The new WRC season kicks off in January 2017, and this year's entrants have been designed to meet a raft of new technical regulations, all concerned with spicing up the spectacle with aggressive new cars.
It's promised that the new generation WRC cars we'll see in 2017 will be much faster than in previous years, and records are tipped to tumble. It's part of a fresh drive to restore the sport to its Group B glory days.
• Best superminis on sale right now
The new regulations introduce a massive power increase, alongside a loosening of aerodynamic rules and the introduction of electronic differentials. As such, the cars are bigger and wider, with wilder bodywork and much more grip and speed.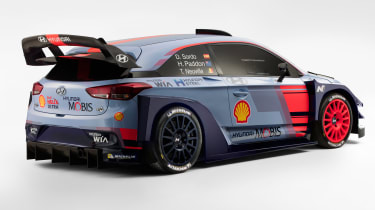 Hyundai's challenger is one of our best looks yet at a next generation WRC car. It sports a much wider, more aggressive stance with wheels housed under extra wide wheel arches.
The chin spoiler at the front has swollen in size and is joined by four large bumper canards. A much larger rear wing is found around the back, and is joined by a substantial rear diffuser sitting underneath the bumper.
Despite the extra bodywork, the 2017 i20 Coupe WRC is lighter than before thanks to the new regulations, and power is up from 300bhp to 380bhp.
The 2017 WRC season will be Hyundai's fourth since re-joining the sport in 2014, and the manufacturer has notched up three rally victories across its two teams over the last few seasons.
Will you tune in for the new look World Rally Championship? Let us know in the comments.