Infiniti plans high performance coupe
Infiniti to make high performance coupe, with a saloon to follow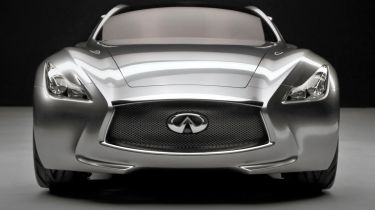 Infiniti is planning a range-topping high performance coupe and it will be inspired by the Essence concept from Geneva 2009.
The car is due within six years. However, a saloon version could arrive first, along with a hot variant produced by a new Infiniti performance division to rival AMG.
Company President Johan de Nysschen said: "An Infiniti halo car is important for our future. It should have a strong emotional character and is likely to be a powerful and exciting coupe." He then added: "I would like to see commercialisation of the Essence concept towards the back end of the decade."
However, de Nysschen quashed rumours Infiniti would produce a Porsche Cayman rival based on the Emerg-E concept from Geneva last year. "We won't do a small a small sports car as that is a declining sector."
• Infiniti Q30 hatchback revealed for Frankfurt motor show
The details come as Infiniti laid out bold plans to increase its product line-up by 60 per cent and double its range of engines in a bid to increase global sales from 200,000 to 500,000 by 2020.
De Nysschen explained: "By 2016 we will start firing quickly with new product and revamps of current cars."
Key to this will be the firm's collaboration with Mercedes via Infiniti's owner Nissan and its Alliance partnership with Renault.
The first all-new Infiniti to appear through this deal is the Q30 premium hatch, the concept of which has just been unveiled at a special event in Milan. Due in 2015, the Q30 shares its underpinnings with the Mercedes A-Class and will be built at Nissan's Sunderland plant.
Infiniti's executive design director Alfonso Albaisa revealed that the production version of the Q30 will stay close to the concept car's looks and, that in addition to Q30, he was currently working on eight future road cars, two of which were all-new, rather than replacements for current models. He said: "Sharing with Mercedes allows us to explore much more than before like large sedans with super horsepower."
However, while Infiniti will share platforms with Mercedes, de Nysschen said it won't be taking any AMG engines and hinted that it would have its own performance division.
"There is a reason we are in Formula 1 - to see us turn up the dial in performance," he added.
Such cars could use the firm's hybrid technology to help boost performance, but they wouldn't be fully electric. Even though de Nysschen pledged there would be an electric-powered Infiniti in future, it would be positioned somewhere between a "commuter car", like the Nissan Leaf and a performance model like the Mercedes SLS E-Cell.