Infiniti to launch five new models by 2018
Nissan's luxury arm launches product offensive including Audi A3 and BMW 4 Series rivals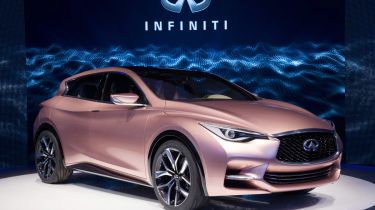 The Infiniti Q50, a rival to the BMW 3 Series, may just be arriving in Infiniti showrooms, but five new models targeting German premium cars will be launched by 2018.
Speaking exclusively to Auto Express, Infiniti president Johan de Nysschen said that a new Q60 coupé, a QX70 replacing the current FX 50, a high-performance luxury flagship along with a halo performance model will all be launched before 2018.
First of all, the Q30 crossover, built at Nissan's Sunderland plant, will arrive next year to battle the Audi A3, BMW 1 Series and the Mercedes A-Class.
"The Q60 coupé will be an evolution of the Q50 saloon," said de Neysschen. "The car's been pushed back as we need to fix the design language. We need more cohesion in our design language across the range."
"The Q50 has shown a signal of our design language, " he said, "But we'll develop that with a more prominent shoulder line and a strong wedge."
De Neysschen said that the new look would be consistent across all saloon, coupé and SUV models.
Profitability is also something de Neysschen said would come to Infiniti in Europe, before some analysts had predicted: "We make money in the middle east and eastern Europe, but not in western Europe. There will come a time to be more aggressive in Europe and we are there now."
"Infiniti has to have a positive result for its shareholders," he said. "We break even in Europe by the end of the 2016 financial year."
As well as the onslaught of new products, de Neysschen also hinted at Infiniti's plans to shake up the way premium cars are sold: "We're working on a different approach to sales," he said.