New Infiniti Q30 creates 300 UK jobs
The introduction of Infiniti's new Q30 hatch and QX30 crossover will create 300 jobs at Nissan's Sunderland plant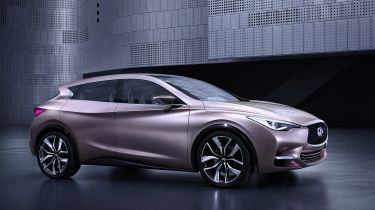 The introduction of the new Infiniti Q30 hatchback will generate 300 new jobs at the brand's manufacturing facility in Sunderland, before production starts later this year.
It will be the first Infiniti to be built in Europe and comes after a £250 million investment in parent company Nissan's existing facilities in the North East. Extensions totalling 25,000 square metres have already been added, including a new body shop and expanded vehicle assembly line.
Recruitment has already begun for the new roles, ahead of Infiniti's move into the compact executive market later in 2015. The Q30 will rival models like the Audi A3 and BMW 1 Series, as well as the Mercedes A-Class and VW Golf. The Infiniti QX30 crossover will join the range at a later date, and also be produced in Sunderland.
Colin Lawther, Senior Vice President for manufacturing, purchasing and supply chain management in Europe, said: "It is a fantastic time to be joining the company, as we prepare to launch Infiniti's first premium compact entry for global markets. In return we'll be looking for people who share the same obsession for detail and commitment to quality as our highly-skilled workforce in Sunderland."
Originally, Infiniti only committed to creating 180 jobs with the introduction of Infiniti in the UK, so the further 120 is a massive boost for the British economy. The new recruits will take the total workforce to nearly 6,800 people, supporting a further 28,000 jobs in the automotive supply chain.
Do you think the Infiniti Q30 can challenge the Audi A3 and BMW 1 Series for the compact exec crown? Let us know in the comments below...