Hot Infiniti Eau Rouge not dead
Infiniti president hints performance range is not dead and buried but he's also in no hurry to launch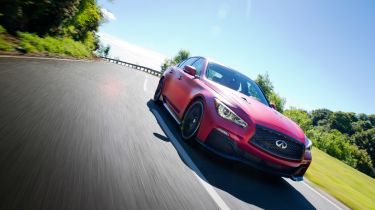 Infiniti hasn't shelved plans to create a performance model to take on Mercedes-AMG and BMW M cars, the firm's chief has told Auto Express. But don't expect to buy a hot Infiniti soon though, as the upmarket arm of Nissan has more important cars to launch first.
Infiniti revealed the Eau Rouge concept in 2013. Powered by the Nissan GT-R's 560bhp 3.8-litre twin-turbo V6 and four-wheel drive, the car was built by racing team RML Group – the company responsible for Nissan's British Touring Car Championship success in 1999 and the bonkers Juke R and Juke R 2.0.
• Infiniti Q50 Eau Rouge review
More importantly though the Q50 Eau Rouge previewed plans for launching one or a range of performance-orientated Infinitis, possibly under a sub-brand like BMW M or Mercedes-AMG. It was the baby of Johan de Nysschen – the then president of Infiniti – but since then de Nysschen has left for Cadillac and replaced by BMW veteran Roland Kruger. It was rumoured Kruger didn't share the same love for one or a range of hot Infinitis like de Nysschen.
Now though, Kruger has hinted the Eau Rouge project hasn't been shelved indefinitely and could launch in the next few years. But before then, Infiniti needs to concentrate on launching models that will drive demand and boost brand awareness.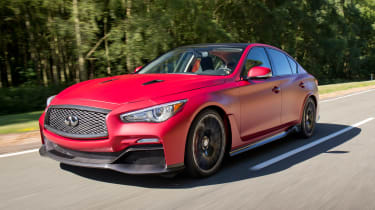 Speaking at a special event marking the first Infiniti Q30 to roll off the production line at Nissan's Sunderland plant, Kruger said: "Every premium brand that has performance aspirations needs a halo model - a model at the forefront that symbolises power and performance.
"But we need to concentrate on cars like Q30. That said, next year we will launch the Q60 with a powerful 3.0-litre twin-turbo engine. That car will definitely be very special."
Kruger hinted that while he wants a high performance model or brand like Eau Rouge, he understands Infiniti and its position in the market. The new 3.0-litre engine is just the first step in a so-called "grade walk".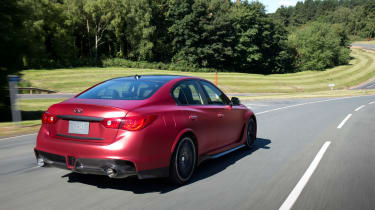 He said: "We see the next few years as a grade walk," he said. "We are still a very small company compared to our competitors and we need to introduce the right grade walk."
Next year will see the new Q60 launched. The premium two-door, four-seater coupe is likely to be powered by a range of engines to allow it to compete against BMW, Mercedes, Audi and Lexus, and for now the new 3.0-litre twin-turbo V6 will be the performance model.
It could offer as much as 400bhp – notably less than a BMW M4 and the new Mercedes-AMG C 63 signifying there's room to add a hotter halo model in the future. Kruger also revealed the new engine should make its way to the Q50 saloon to give the BMW 3 Series rival some much needed excitement.
What do you think about Infiniti's plans? Leave us a comment below...