Infiniti Q50 Eau Rouge concept review
The Infiniti Q50 Eau Rouge nabs the Nissan GT-R's 560bhp V6 engine, but can it match the supercar slayer?
The Infiniti Q50 Eau Rouge is a tantalising taste of what could be. The GT-R engine endows it with huge performance and the four-wheel drive chassis deploys every scrap of power with real security. For a rolling prototype its sense of cohesiveness is some achievement. However, it lacks the interaction of the best rivals from the likes of BMW and needs to offer greater agility and sense of occasion to be a true statement of intent from Infiniti.
When was the last time you saw an Infiniti out in the wild? Or the last time you heard a friend or colleague say that they really wanted one? I'm guessing the answer to those questions is 'I can't remember' and 'that's never happened'. It's fair to say that Infiniti's launch in the UK has been met with apathy at best and that Nissan's sporting luxury sub brand needs something special to really establish itself in the UK and Europe. Well, this Infiniti Q50 Eau Rouge might just be the very thing.
How does a four-wheel drive super saloon powered by a 3.8-litre twin-turbocharged V6 engine borrowed from the mighty Nissan GT-R and pumped up to 560bhp sound? Yep, thought you'd like that.
This Q50 Eau Rouge, which is somewhere between the BMW M3 and M5 in dimensions, is still a working prototype so there's much to do before Infiniti decides to go ahead with production. However, it's been developed by the RML Group – a race team and engineering company based in Northamptonshire – with a small production run as the target. If all goes well this car will act as a springboard for a whole range of Infiniti performance derivatives, too.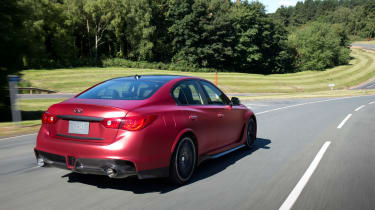 Nearly all of the Eau Rouge's underpinnings are from the Nissan/Infiniti family to cut costs and ensure durability. Far from a GT-R with a saloon body plonked on top, the Eau Rouge is a thoroughly engineered and bespoke machine. It utilises the Q50 platform married to the four-wheel drive system and the 7-speed automatic gearbox from Infiniti's larger Q70 saloon. It's been a massive engineering challenge to fit the GT-R engine, keep it cool and to get it communicating with the Infiniti gearbox and four-wheel drive system.
The result is amazingly coherent and a million miles from the rough prototype hack I'd expected. The fixed-rate dampers (the production model will have switchable suspension with various modes) offer superb control of the car's not inconsiderable 1800kg mass, the GT-R spec brakes are strong and offer fine feel and the Eau Rouge just has the feeling of a car on the verge of production.
However, there are still many challenges to overcome. In a world of seamless twin-clutch gearboxes the 7-speed auto is simply too slow and unresponsive, and although the four-wheel drive system offers good high-speed balance and superb traction, the Eau Rouge doesn't quite offer the agility or excitement that you might expect given the promise of that GT-R engine.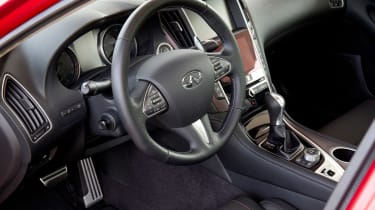 It doesn't have that car's drama or its shocking agility. Infiniti are quick to point out that refinement is a core brand value, but the Eau Rouge currently feels too restrained, too quiet, just a bit too buttoned-up.
Having said that it's performance is suitably brutal and the way it carries speed into and through corners is deeply impressive. It's just lacking that degree of interaction that the best M cars and AMG models serve-up so joyously. A sharper gearbox will help, so too slightly lighter, more feelsome steering. But what it really needs is somebody to have the vision to let RML pull the cork out and release the potential so palpably lurking within.
Infiniti needs a halo that's bright and confident and blitzes the German opposition, especially as a low-volume production run would surely put the Eau Rouge price point above that of traditional rivals. There's a real stormer here just bursting to get out. We can't wait to try the finished version when it's been turned up to 11.