Infiniti Q50 vs rivals
We see if the new Q50 can help Infiniti take the fight to the compact exec establishment
You've probably seen Infiniti branding on the Red Bull Formula One cars, but have you ever seen an Infiniti on the road? While Nissan's luxury division is as big as Lexus in the US, it's yet to make an impact here.
The new Q50 compact executive aims to change that. This rear-wheel-drive saloon is intended to take sales from established brands by offering efficient diesel power, a generous amount of standard equipment and a driving experience that mixes comfort with good handling.
That sounds similar to our current class champ, the BMW 3 Series. So we've put the Q50 Premium against the 320d Sport, as well as lining up Lexus' IS 300h. The hybrid IS has temptingly low running costs and shows that an ambitious Japanese brand can be a contender.
Head-to-head
On the road The BMW strikes a great balance between comfort and handling, and while the suspension is on the firm side, it's more composed than the Infiniti's over bumps. The Lexus shows the Q50 a clean pair of heels for comfort, too. Although the IS 300's driving experience is pretty lifeless, it's a great motorway cruiser – there's hardly any cabin noise, and the suspension soaks up bumps well.
Company costs
With emissions of 114g/km, the Q50 sits one tax bracket below the BMW, at 17 per cent. That means it's marginally cheaper to run – but if you really want to save some cash, choose the Lexus. It sits in the 12 per cent band, and its annual tax liability is £500 less for top-rate payers.
Build quality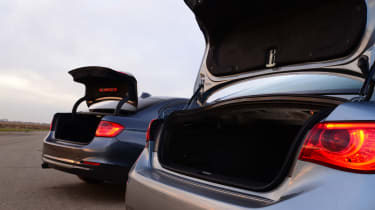 In most respects, the Infiniti is just as well built as its rivals, but it's perceived quality that disappoints. The bootlid is lightly sprung,so it slams shut with minimal effort, and some welds are clearly visible around the rear window.
Worth Considering
If you don't want to go German or Japanese, then your only option is the S60. For £30,000, you get a top-spec R-Design with the new 181bhp, 99g/km diesel engine.
1st place - BMW
Another challenger is sent packing by the 3 Series. While the Infiniti has lower company-car costs, the 320d is much better to drive, faster, roomier and more comfortable (despite its noisy diesel). It's cheaper to buy, and everyday running costs remain low.
2nd place - Lexus
The IS 300h isn't involving to drive like the BMW, but it's an accomplished cruiser, thanks to its hybrid drive and comfortable interior. And if you're after a company car, then it's a great choice, with far lower bills than either rival here.
3rd place - Infiniti
The Q50d is comfortably outperformed by its rivals here. It's well built and equipped, but let down by an unrefined diesel, ponderous chassis and unsettled suspension. Company costs are lower than the BMW's, yet the Lexus' are better still.
BMW
Lexus
Infiniti Q50
320d Sport
IS 300h Luxury
2.2d Premium
On-the-road price/total as tested
£29,775/£40,240
£30,995/£35,900
£30,350/£38,110
Residual value (after 3yrs/30,000)
£13,280/44.6%
£13,390/43.2%
£11,563/38.1%
Depreciation
£16,495
£17,605
£18,787
Annual tax liability std/higher rate
£1,057/£2,114
£743/£1,485
£1,030/£2,060
Annual fuel cost (12k/20k miles)
£1,658/£2,764
£1,513/£2,521
£1,767/£2,945
Ins. group/quote/road tax band/cost
31/£411/C/£30
32/£414/B/£20
40/£480/C/£30
Cost of 1st/2nd/3rd service
£425 (5yrs/50k)
£773 (3yrs)
£300/£360/£300
Length/wheelbase
4,624/2,810mm
4,665/2,800mm
4,790/2,850mm
Height/width
1.429/1,811mm
1,430/1,810mm
1,445/1,820mm
Engine
4cyl in-line/1,995cc
4cyl in-line/2,494cc
4cyl in-line/2,143cc
Peak power
182/4,000 bhp/rpm
220/6,000 bhp/rpm
168/3,200 bhp/rpm
Peak torque
380/1,750 Nm/rpm
221/4,200 Nm/rpm
400/1,600 Nm/rpm
Transmission
6-spd man/rwd
eCVT/rwd
6-spd man/rwd
Fuel tank capacity/spare wheel
57 litres/run-flats
66 litres/repair kit
74 litres/run-flats
Boot capacity
480 litres
450 litres
500 litres
Kerbweight/payload/towing weight
1,495/550kg/N/A
1,720/425/750kg
1,723/527/1,500kg
Turning circle/drag coefficient
11.3 metres/0.27Cd
10.4 metres/0.26Cd
11.4 metres/0.26Cd
Basic warranty (miles)/recovery
3yrs (unlimited)/3yrs
3yrs (60k)/3yrs AA
3yrs (60k)/3yrs
Service intervals/UK dealers
Variable/153
10k miles (1yr)/51
12,000 miles (1yr)/8
Driver Power manufacturer/dealer pos.
15th/24th
1st/1st
N/A
Euro NCAP: Adult/child/ped./stars
95/84/78/5
91/85/80/5
86/85/67/5
0-60/30-70mph
7.3/6.7 secs
7.8/7.1 secs
9.3/8.6 secs
30-50mph in 3rd/4th
3.3/5.3 secs
3.0 secs (kickdown)
4.0/6.9 secs
50-70mph in 5th/6th
6.2/8.7 secs
4.3 secs (kickdown)
7.5/11.4 secs
Top speed/rpm at 70mph
146mph/2,000rpm
125mph/1,200rpm
144mph/1,800rpm
Braking 70-0/60-0/30-0mph
47.1/34.4/8.6m
51.0/37.0/9.2m
48.3/34.6/8.9m
Noise levels outside/idle/30/70mph
68/48/61/68dB
N/A/N/A/52/63dB
76/48/54/64dB
Auto Express econ (mpg/mpl)/range
45.5/10.0/571 miles
47.1/10.4/684 miles
42.7/9.4/695 miles
Govt urban/extra-urban/combined
48.7/74.3/61.4mpg
61.2/61.4/64.2mpg
50.4/76.3/64.2mpg
Govt urban/extra-urban/combined
11.5/15.9/13.8mpl
13.5/13.5/14.1mpl
11.1/16.8/14.1mpl
Actual/claimed CO2/tax bracket
166/120g/km/18%
139/103g/km/12%
177/114g/km/17%
Airbags/Isofix/park sensors/camera
Six/yes/rear/£330
Eight/yes/yes/yes
Six/yes/yes/yes
Auto box/stability ctrl/adaptive cruise
£1,550/yes/£620
Yes/yes/no
£1,550/yes/£2,080*
Climate control/leather/heated seats
Yes/£1,295/£325
Yes/£1,400/£1,400
Yes/yes/yes
Metallic paint/LED lights/keyless go
£645/no/£495
£610/no/yes
£660/£680/yes
Sat-nav/USB/DAB radio/Bluetooth
£990/yes/yes/yes
£1,995/yes/yes/yes
£1,920/y/£2,760^/y