JLR boss stops short of denying PSA takeover rumours
Leaked documents suggest PSA could buy JLR. Boss Dr Ralf Speth says he has not discussed a sale but doesn't deny moves are afoot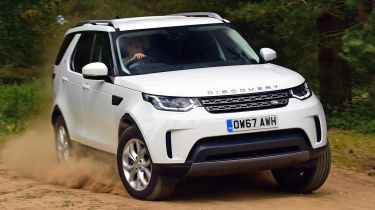 Jaguar Land Rover boss Dr Ralf Speth has insisted that he has not discussed any sale of his company to PSA with the French giant's chief Carlos Tavares - but he has stopped short of quashing increasing speculation that the British brands could soon face a change of ownership.
Reports last week suggested that PSA is keen to acquire the Jaguar and Land Rover brands from existing owner Tata, in a bid to widen its portfolio to include more premium vehicles. Speaking at the Financial Times Future of the Car Summit, Jaguar Land Rover boss Dr Ralf Speth said that he "couldn't confirm discussions" - but he declined to deny that any talks had taken place.
"I meet Carlos Tavares at an ACEA [European car manufacturer's association] meeting," Speth said, "but we didn't have any discussion about ownership."
When asked more directly if he knew of any talks between PSA and Tata, Speth replied, "There are rumours, but I cannot really confirm any of these discussions."
The story first broke when a leaked "post-sale integration document", seen by Press Association (PA), highlighted the benefits of a union between the two companies, with insiders at JLR telling PA that "things are moving quickly behind closed doors". The source added: "Just look at how close the two firms are in the UK - the two head offices in Coventry and Gaydon are just 25 miles apart and both firms make cars in the UK.
A statement from PSA said the company was in "no hurry" to buy JLR, but that "If an opportunity comes, like Opel (Vauxhall), we will consider it." PSA, which is 13.68 per cent owned by the French Government, has had significant success since buying Opel/Vauxhall from General Motors, with Opel/Vauxhall bringing in an €859 million profit in 2018, compared with the €257 million loss it made in 2016 when it was owned by General Motors.
JLR's parent company, Tata Motors, however, told PA that: "there was no truth to rumours that Tata Motors is looking to divest its stake in JLR".
Suggestions that Jaguar Land Rover could be sold follow the firm posting a £273-million loss in the final quarter of 2018, and downgrading the value of assets by £3.1 billion. The recent success of the electric Jaguar I-Pace and all-new Range Rover Evoque have done much to lift JLR's profile, as has the introduction of more plug-in hybrid and mild hybrid models, but they come off the back of a downturn in the company's key Chinese market, and slow-selling models like the Jaguar XE and Land Rover Discovery.
Would a takeover by PSA be good for JLR? Have your say in the comments...