'Jaguar Land Rover owners owe a debt of gratitude to Mike Cross'
John McIlroy praises the retiring Mike Cross for his 37 years of developing Jaguars and Land Rovers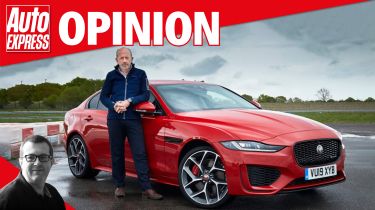 We're always excited by cars at Auto Express - but this week comes a reminder that every vehicle that we enjoy driving is made, designed and developed by people. Because the exciting news that Matt Becker, formerly of Aston Martin and Lotus, is on his way to Jaguar Land Rover is accompanied by the sad confirmation that Mike Cross, the British brands' director of Vehicle Targets and Sign-off, is retiring.
Crossy, as he is known in the industry, joined Land Rover back in 1978 as a development engineer. He's racked up a total of 37 years working on Jaguar Land Rover products, honing them over thousands of miles on his favourite roads, usually in the UK (we can't divulge the precise locations, but north Wales and stretches of the Fosse Way were regular haunts).
Mike has also spent many hours with journalists, including those at this title, sharing his views on vehicles as they went through final sign-off. Covid-19 has interrupted such activities, but I can remember a frank, honest conversation on the last session I attended, where Mike revealed the challenges of making the then-forthcoming new Defender not too polished, lest it not feel authentic enough to the enthusiast. It was yet more proof that despite being a man who could flick most cars sideways at a moment's notice, his focus always remained fixed on what the eventual owner of the vehicle would feel from behind the wheel, during everyday driving. 
Ultimately, of course, he nailed the Defender's compromise between handling and ride – as he did on so many Jaguars and Land Rovers, forcing countless rivals to up their game in this area as well. Auto Express owes a huge debt of gratitude to Mike for his candour and generosity with his time over the years. But it's the hundreds of thousands of owners, who enjoy the way their XE handles or how their Evoque soaks up bumps in town, who really benefited from his skills the most.
Check out the latest Jaguar news and reviews here...