JLR opens £240m manufacturing facility in Brazil
Jaguar Land Rover has opened its first factory in Brazil, building Discovery Sport and Range Rover Evoque for local buyers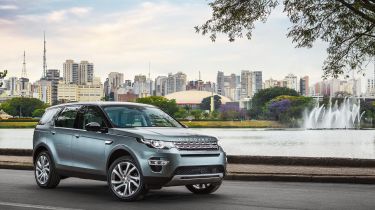 Jaguar Land Rover has announced the next phase in its global expansion plan by opening its first factory in Brazil. The plant is the result of a £240m investment, building Discovery Sport and Range Rover Evoque models solely for the Brazilian market.
The factory in Itatiaia represents the first time a UK automotive group has opened a production centre in Latin America. The move was announced at the end of 2013, and the first bricks were laid the following year. It is already building its first cars, with capacity for 24,000 units in its first full year.
JLR has been selling cars in Brazil for more than 25 years and already has 35 dealers. It claims to be the 'leading SUV seller' in Brazil, with the country contributing substantially to an 11 per cent increase in JLR global sales year-on-year.
• JLR confirms Wolverhampton plant expansion
The factory imports things like engines, bumpers and light units from the UK, but up to 40 per cent of parts will be manufactured locally in Brazil. All cars will comply with the same safety standards as those built in the UK, with a number of senior staff trained on site at the brand's facilities here in the West Midlands.
Around 400 people work on site, with Jaguar Land Rover claiming an additional 1,000 jobs have been created in the wider supply chain. It should help total sales surpass 1m units in the coming years.
Executive director of manufacturing Wolfgang Stadler said: "The opening of Jaguar Land Rover's new world-class facility in Brazil marks the latest excting milestone in our global expansion."
• New Range Rover Sport Coupe spotted testing
The plant also includes JLR's first overseas 'Education Business Partnership Centre', which is said to provide educational activites for up to 12,000 children every year. JLR says it'll help develop key skills, with the end goal of them pursuing careers within the business.
"We are proud of our strong links that we have established with the communities close to our existing plants and the same is true in Brazil. Our centre is just one step we're taking to deliver exciting educational programmes to local children of all ages."