Jaguar Land Rover splashes out on 543 classic cars
JLR's Special Vehicle Operations division acquires 543 classic British cars to use in international heritage events
Jaguar Land Rover's heritage and performance car offshoot, Special Vehicle Operations (SVO), has announced the acquisition of a 543-strong classic British sports car collection. The group of cars was amassed by British dentistry entrepreneur James Hull, and is believed to be valued in the tens of millions of pounds. Jaguar claims its is the most extensive private collection of British cars known to be in existence.
SVO's new collection includes a large proportion of iconic Jaguar's from the rare D-type-derived XK SS to original C-Types and D-Types, plus eight E-Types and even a Mark X owned by the company's founder, Sir William Lyons. As well as racers and sports cars, some 19 XJS models and at least 20 XJ saloons are among the collection's number. The Jaguars are to be maintained at a new facility at JLR's Brown's Lane site currently building seven new Lightweight E-Type recreations for well-heeled Jaguar enthusiasts.
Also in the heritage collection of legendary British cars are cars from Mini, Morris and Bentley, plus an Austin once owned by British wartime Prime Minister Sir Winston Churchill. It's not clear how Jaguar plans to use these cars, though the company has officially stated that the collection 'has been secured for the nation', perhaps pointing to the non-Jaguars being entrusted to museums without seeing the collection irrecoverably sold off and split up.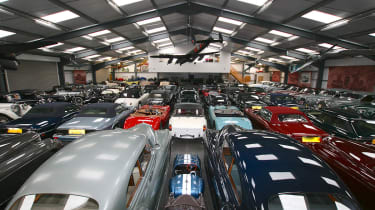 Jaguar has made this extravagant investment in order to make a bigger fuss of the brand's colourful heritage. With cars like the XE and upcoming SUV model gunning for big sales overseas, Jaguar wants to transport its new treasure trove of cars around the globe, showing off examples of its most illustrious cars and generating worldwide enthusiasm for a quintessentially British brand.
Jaguar can also commit to a larger presence at events like the Goodwood Revival and Mille Miglia – in previous years, Hull has loaned cars from his collection to the marquee for use on the famous Italian road-rally.
Successfully acquiring the James Hull collection caps a busy few months for SVO, in which it has promised six new Lightweight E-Types, unveiled a limited-run version of the F-Type Project 7 sports car, and confirmed plans to offer 542bhp take on the Range Rover Sport V8.