Jaguar F-Type Coupe V6 review
Stunning new Jaguar F-Type Coupe V6 is classy drive but lacks fizz
The F-Type Coupe is a great car, and delivers a compelling blend of looks, handling and performance. Plus, the stiffer body over the convertible means that it deals even better with battered British roads. However, if you want one, you should try to stretch to the V6 S, and not the entry-level car tested here, because it's a better sporting package overall.
The Jaguar F-Type Coupe is a seriously desirable car, and better in many ways than the more expensive convertible. But this is the first time we've driven it in right-hand drive, here in the UK. It's also the first time we've driven the entry-level V6 model, which starts from £51,235 – a saving of £7,285 over the convertible.
Despite the fact that the F-Type was originally conceived as a convertible, it's the coupe which turns more heads – it's arguably one of the best looking cars on sale. The fixed roof also increases the stiffness of the car, and ensured the F-Type Coupé is the most torsionally rigid road car Jaguar has ever made.
This is good for two reasons: a stiff body provides a better ride, important when driving on battered British tarmac, and it also improves agility – which makes it the keen driver's choice.
Is it better than a Porsche Cayman S? Probably not. But in the real world of everyday motoring you'll struggle to reach the limits of the Jaguar's capabilities.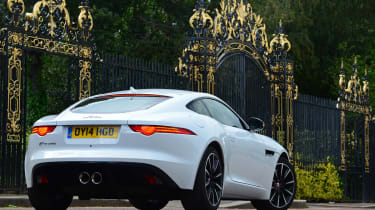 The cabin is a nice place to sit and the boot is usefully larger than the convertible's – you can even fit two sets of golf clubs in it. The standard fit eight-speed auto is smooth in auto mode, yet fires home changes with addictive ferocity in sports mode, or when you use the steering wheel mounted paddles.
The 3.0-litre supercharged V6 is a gem and sounds fantastic too. In our test car it delivers 335bhp, and that's fine so long as you never drive the V6 S.
The next model up uses the same unit, only tuned to 375bhp. That's not a big difference on paper, but after driving it, the lesser-powered car seems to lack that little bit of extra fizz. It doesn't help that the sports exhaust, which really lets the V6 sing, isn't standard where as it is on the S.
That car also benefits from a limited slip differential (which you can really feel on tight turns) and adaptive dampers, which improve the ride further.
Okay, so you have to pay an extra £9,000 to step up to the S model, but it's worth it. Because while the F-Type Coupé is a great car the entry model is not the one to have, the V6 S is.