Jeep Renegade video review
The Jeep Renegade is the company's first venture into the compact crossover segment. Is it any good?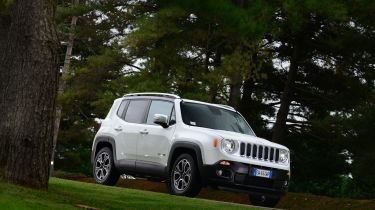 There's always been one hostile environment Jeep could never conquer, and that is the European car market. Their latest tactic is to dive into the world's fastest growing car sales segment - compact crossovers. They're doing it with the new Renegade.
You've only got to spend thirty seconds on any European road these days to know that compact crossovers, or small SUVs are hot property these days. There's the Nissan Juke, Renault Captur, Mercedes GLA and MINI Countryman - every manufacturer has either got one of these SUVs or is scrambling a team of designers to get one on the market.
Jeep promises it designed the Renegade to be true to its off-roading roots and have the best all-terrain ability in its class - not that it has much to beat. The Renegade is a really good little off-road car. The steering doesn't jump or fidget around, the body's nice and stiff and, crucially, it's fairly difficult to get the Renegade stuck. 
Jeep's Selec-Terrain four wheel drive system is present in the Renegade. It's an adaptive system where you can select a range of modes consisting of snow, mud, sand, rock and automatic setting. There's also a hill-descent system. 
On the road, the Renegade is a bit of a mixed bag. Visibility is pretty bad both front and rear, but the gear change is positive, it doesn't roll too much in corners and there's plenty of grip. It can't quite match the sharper drive of the Skoda Yeti or MINI Countryman, though. 
The interior certainly has a sense of humour with paint splatters on the dials and a reminder of Jeep's birthday. The plastics aren't as good as they could be and the infotainment system from Alfa Romeo isn't as good as the system found in the larger Jeep Cherokee. The interior sums up the Jeep Renegade - lots of flair but some flaws. 
There's no doubt this is the most relevant Jeep in years, and there's finally a model worthy of comparison with European and Japanese rivals.