Kia to introduce 48v hybrid tech to diesel engines
New mild hybrid system aims to boost power and reduce emissions of diesel units when it joins the range later in 2018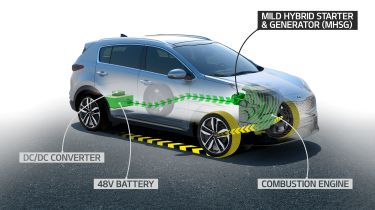 Kia has announced that it'll launch an all-new mild hybrid powertrain. The new system is designed to both reduce emissions and improve performance.
The system incorporates a 48v battery with a starter generator unit, similar in principle to the tech used current vehicles as wide-ranging as the Suzuki Ignis and the Audi A8. Kia will use the tech to reduce the emissions of its diesel line-up by a claimed four per cent over the WLTP cycle.
An electric motor adds 10kW - that's 13bhp - to boost performance under hard acceleration, but it also adds assistance under part throttle loads to take strain off the internal combustion engine. When decelerating, and inverter switches the current of the motor, effectively turning it into a generator to top up the 0.46kWh battery.
The added benefit of the tech is that when coasting towards a junction, the duration of the 'stop' part of a start/stop system can be extended, which further helps to reduce fuel demands from the engine.
Kia says that the compact packaging of the system means that it'll be relatively straightforward to install in the brand's current model ranges. The battery will sit below the boot floor in most installations, and the strain this system takes off the traditional starter motor and 12v battery means that both of those items can be replaced with smaller, more compact components.
Official release dates haven't been confirmed for the new system, but the technology is available to roll out now. The new Ceed, due later this year, is a likely debut candidate for the new tech.
Is mild hybrid tech a good idea? Let us know in the comments section below...