Kia announced 11-strong electric car plan for for 2025
Kia's 'Plan S' strategy will produce 11 fully-electric models by 2025, with a dedicated EV model due for release in 2021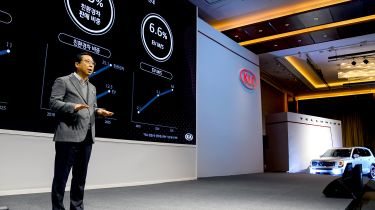 Kia has outlined plans to create an 11-strong lineup of fully electric vehicles by 2025, with a dedicated electric model capable of over 311 miles on a single charge due on sale by 2021.
It's part of a programme that Kia has dubbed 'Plan S' which sets the company a target of hitting one million sales of 'eco-friendly' (a mix of low and zero-emission) vehicles by 2026 - half of which will be full EVs by the brand's own sums. Excluding the Chinese electric car market, Kia wants to achieve a battery-powered market share of 6.6 percent by this time.
• Kia Futuron concept previews new electric SUV
The move shows a change in overall approach for the brand, which confirms that it has switched its focus from a manufacturer of primarily combustion vehicles to one that will prioritise EVs in the coming years. 
Speaking at the announcement, Kia CEO Han-woo Park said "Kia Motors will transform itself into a ceaselessly innovative brand by accelerating its bold and pre-emptive transition to future businesses." Kia is investing $25bn US to achieve the targets.
As part of the announcement, Kia confirmed that a dedicated electric car will be revealed as early as 2021. The new model is expected to be a production version of the Imagine concept - a high-roofed fastback first shown at the 2019 Geneva Motor Show, roughly between the size of the X-Ceed and the Sportage.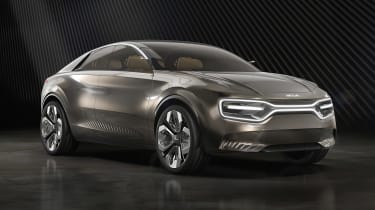 It'll use a brand new electric platform housing enough battery capacity to unlock that 311 mile-plus range target, while boasting new charging technology enabling a sub-20 minute recharge where possible. Kia says it is working on vehicles with 800-volt electrical systems, meaning cars with comparable recharging technology to the Porsche Taycan are planned. 
Beyond ground-up EVs like the 2021 car, Kia will continue to electrify existing models in its range. As it stands, Kia currently produces two fully-electric cars - the Soul EV and the e-Niro - plus the Korean market Bongo 3 EV van-based pickup. Passenger cars, SUVs and MPVs will all be created with electric powertrains, some of them developed as derivatives of petrol powered models, while others will join the 2021 EV as bespoke models. 
Further to the electric car plan, Kia is also turning its attention towards the Purpose Built Vehicle market. The brand claims PBVs will become ever-more relevant in urban environments, among other things enabling autonomous, zero-emission car sharing in busy cities and also providing vehicles for commercial purposes.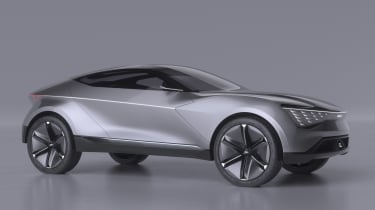 On entering this area of the market, Kia says that it will be first and foremost targeting corporate rather than private customers. Hubs for charging and maintaining the vehicles will have to be built, while the PBVs themselves - described as "mini-size driverless delivery cars and robotaxis" - will use a new modular 'skateboard' style electric platform, enabling different bodies to be mounted on top of the chassis for different use cases.
Do you own an electric car? Let us know what you think of it in the comments below...