Kia: 2035 petrol and diesel car ban doesn't worry us
Kia's UK boss reveals his company can handle the proposed 2035 ban on new ICE cars and strict 2020 CO2 targets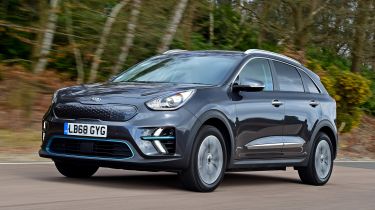 Kia UK boss Paul Philpott has told Auto Express that the proposed ban of new petrol- and diesel-engined cars, including hybrids and plug-in hybrid models, in 2035 shouldn't be a problem for his brand. "2035 doesn't particularly worry me," he said, "Although anything earlier than 2035 would be really challenging."
Kia sold a record 97,323 cars in 2019 putting them eighth in the UK in terms of sales volumes, on the back of strong sales for its electrified Niro range. In spite of limited supply of the full EV model, hybrid and plug-in hybrid Niros accounted for roughly 10,000 of Kia's total UK sales. 
• Future of electric car grant in doubt
Such is Kia's strength with electrified cars in the European market, Philpott is bullish about Kia avoiding punitive fines should the company's average CO2 figure for cars sold in 2020 go above 95 g/km. "We should be okay," Philpott told us. "We plan to grow electrification in the UK from one in ten to three in ten in 2020, with the Niro likely to be in excess of 20,000 cars plus the Soul EV coming at the end of March. One in ten of our cars this year should be pure EVs." 
The car industry is still waiting for clarity from the government on whether the £3,500 electric car grant will exist beyond March. But Philpott warned of the difficulties the removal of the grant could bring following hints from Ministers that it could be axed.
"It'll become more challenging [if the EV grant is removed]," he said. "Since the government removed grants for plug-in hybrids, demand for them has gone down."
However, Philpott doesn't think the removal of the grant would lead to many cancelled orders. "Will customers cancel their orders? I don't think so," he said. 
"Manufacturers will cop for some of it, and consumers some of it. But strengthening residuals for EVs will help to offset the disappearance of the grant with most buyers buying on a monthly lease or PCP deal."
Philpott is also expecting to see a greater number of business users opt for his full EV models with the changes to benefit-in-kind company car tax in April, although potential buyers wanting their cars in 2020 need to act fast. "If the car grant continues, we'll have sold this year's 9,000 electric cars by mid-year," he said.
Kia has committed to have 11 new EVs in production by 2025 as part of its recently-announced Plan S strategy, starting with a crossover based on last year's Imagine concept car. Plug-in hybrid versions of the XCeed and Ceed Sportwagon models will be on sale in the Autumn, while the new Sorrento – set to be unveiled at next month's Geneva motor show – will also feature plug-in hybrid power.
Which manufacturer is best equipped to cope with the 2035 ban on new ICE cars? Have your say in the comments...