Kia Sportage 1.7 CRDi review
The Kia Sportage has been subtly tweaked, but are the improvements enough?
The Kia Sportage remains a handsome, good value and thoroughly recommendable crossover. However, the subtely of the alterations may come back to haunt Kia as ever more talented rivals arrive on the scene whilst the Sportage soldiers on into 2015 and beyond.
Kia has refreshed the Sportage for 2014, and we've driven the car in the UK. There are new LED running lights and tail-lights, plus redesigned wheels and a new grille – all subtle tweaks, but then the pre-facelift Kia Sportage still looked great.
Inside the Kia Sportage, the makeover is more obvious, with a new soft-touch finish applied to the dashboard, and a colour 4.3-inch screen squeezed in between the instrument dials to display trip and fuel consumption information. It's complimented on this 3 Sat Nav model by a seven-inch main touchscreen with Kia's user-friendly navigation and infotainment interface.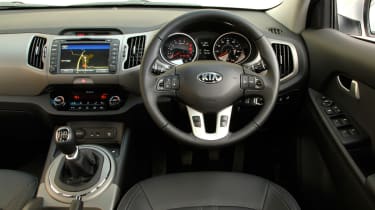 The once invisible-in-sunlight climate control screen is now clearer too. Overall, the Kia Sportage's cabin is a palpable improvement, and proof that Kia is getting the hang of making upmarket, stylish interiors.
Kia has fitted then Sportage with a new soundproofed windscreen, which is aimed at cutting cabin noise. It's not completely successful, with the Kia Sportage still transmitting more tyre roar, and wind whip around the bulky door mirrors.
There's also more engine grumble in the cabin than say, a Skoda Yeti or Nissan Qashqai. However, The Sportage's seats-up boot capacity of 564 litres trounces the Nissan Qashqai's 439 litres, the Hyundai ix35's 464 litres and Skoda Yeti's 416 litres.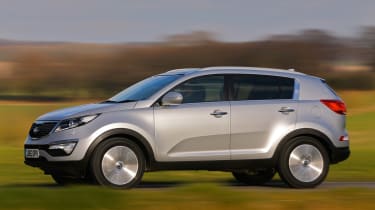 Any agility the Kia Sportage's chassis might have is masked by a super-slow steering rack, but that's not such as problem when it stacks up well as a relaxed cruiser. The UK-specific suspension settings cope well with our scarred roads.
The engine range is unchanged for 2014, comprising 1.7 and 2.0 turbodiesels, and a strained 1.6-litre petrol. The top-selling 1.7 remains the go-to Kia Sportage – although it's a little breathless when you demand all 114bhp, but for everyday chores it rarely feels overwhelmed by the Sportage's bulk.
Check out our review of the best crossovers on sale now.