'Independence is admirable, but it's holding JLR back'
Deputy editor John McIlroy thinks Jaguar Land Rover could benefit from a change of owner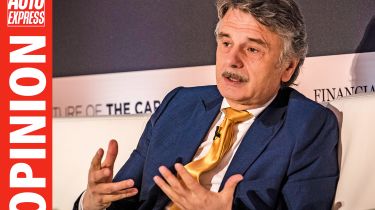 Senior car industry figures were in London last week for the annual two-day Financial Times Future of the Car Summit. It's a chance for leading CEOs to get their company message across – or, in the case of Jaguar Land Rover boss Dr Ralf Speth, an opportunity to deny rumours that his company could soon be bought by French giant PSA, which already owns Peugeot, Citroen, DS and Opel/Vauxhall.
But when it came to the crunch question on whether he was aware that talks had taken place between PSA and JLR's current owner Tata, Speth's response was limp at best. "There are rumours," he acknowledged, "but I cannot really confirm any of these discussions."
• Jaguar Land Rover posts £3.6 billion annual loss
There is an increasing belief that JLR might well benefit from a switch of owner. Acquisition by PSA would lead to a brutal period of cost-cutting, for sure, but it could deliver profits for Jaguar and Land Rover just as quickly as the rapid turnaround delivered at Opel and Vauxhall during the past 18 months.
A PSA deal – or, for that matter, a switch to ownership by a major Chinese manufacturer – would also open Jaguar and Land Rover to a wider pool of technologies than either brand presently gets from Tata. The sortof engineering nous that could have delivered plug-in electrification to the new Discovery Sport now, at launch, instead of in six or nine months' time.
If anything, though, Speth's attitude to partnerships with other brands was what drew the deepest gasps at the FT Summit. "You can talk about economies of scale and that's correct," he said, "but on the other hand, there's the freedom we have to develop and do our own strategy in a fast way, a structured way. This gives us a lot of power."
His dedication to independence is admirable, in a way. But with car makers facing huge bills for developing EV technology, it's hard to find anyone in the industry who thinks that JLR's relative isolation makes any sense at all.
Do you think Jaguar Land Rover could benefit from a change of owner? Let us know below...