Car hunter: Rugged off-roaders
Our reader has £10,000 to spend on a 4x4 with genuine off-road ability
Dear Chris,I've just moved to the country, and I now need a rugged off-roader to get to my new home. What can I get for a budget of around £10,000?John Rice, E-mail
If you'd like help choosing your next car, contact chris_ebbs@dennis.co.uk.
The best buys:
The obvious choice: Land Rover Defender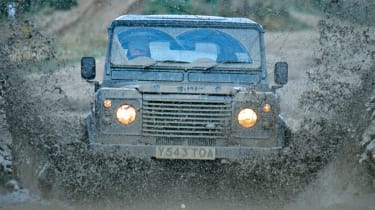 For: Ultimate 4x4, choice of body stylesAgainst: Poor on the road, high prices
No list of rugged off-roaders would be complete without the Land Rover Defender – the original and, in the eyes of many, the very best of the bunch.
A separate low-range gearbox and locking differentials, plus near-perfect ground clearance, make short work of the rough stuff. That said, the Defender is hard work on the road, with lots of wind noise, little ventilation and a surprisingly cramped cabin.
Your choice of long-wheelbase, short-wheelbase, crew cab or panel van will ultimately dictate what you get for your money. We found a 2002 SWB 2.5TD three-door, with 62,000 miles on the clock, for £8,995.
The reliable option: Toyota Land Cruiser Amazon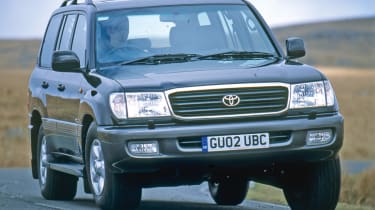 For: Reliability, equipment, lusty dieselAgainst: Thirsty, rare on used market
The Toyota Land Cruiser Amazon has a reputation for never going wrong, and the chassis is ideal for off-roading thanks to the separate low-range gearbox and differential locks. If you're looking for toughness and reliability, it's ideal.
Most vehicles come with plenty of equipment, so expect to see air-conditioning, leather and seven seats.
For your cash you could have a newer model of the standard Land Cruiser, but the Amazon is much more rugged. Yes, it commands a higher price and you'll be looking at 100,000-mile cars from around 2000, but the 4.2-litre diesel engine is bulletproof. We found a W-registered diesel on 113,000 miles for £9,490.
The rare classic: Mercedes G-Wagen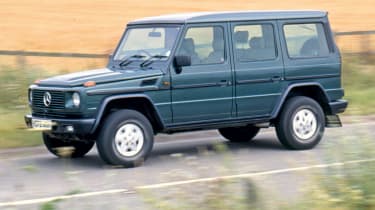 For: Cult following, excellent off-roadAgainst: On-road manners, old, scarce
If you like the idea of a Defender, but want some extra comfort and prestige, the Mercedes G-Wagen is for you. It's almost the equal of the Land Rover off-road, with three locking differentials and a separate low box, but its on-road manners leave something to be desired.
Both three and five-door models were made, with petrol and diesel engines, although many of the latter did without a turbocharger and are painfully slow.
The G-Wagen's a rare sight on the used market and is much in demand, so for your budget you'll be looking at a near-20-year-old example. Our search found a 1991 H-reg 3.0-litre petrol car (112,000 miles) for £8,995.