Land Rover wins High Court ruling to protect Defender name
Canadian manufacturer must change name of off-road buggy, as JLR makes it clear the Defender isn't for imitation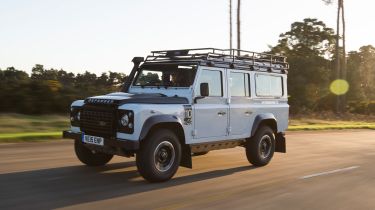 The High Court of Justice has issued a Consent Decree to settle a dispute between Jaguar Land Rover and a Canadian manufacturer of rugged off-road and snow vehicles – Bombardier Recreational Products (BRP).
The case relates to the use of the name Defender – which in most people's minds conjures up images of Land Rover's iconic utilitarian off-roader
BRP has been found in infringement of copyright, after one of the firm's vehicles – marketed as a "fun, recreational off-roader" – took on the legendary Land Rover's namesake.
• Reborn Ineos Defender: All the details
The ruling means BRP will abandon its plans for an EU trademark for the Defender name, must remove the badge from any products it sells in the EU, and will pay a small amount in in damages and legal costs to Jaguar Land Rover.
BRP's now ex-Defender – despite its rugged off-road capability - is by no means an imitation of Land Rover's original. It takes on the styling of a jacked up golf caddy with a large open cargo area and a lightweight design, making it easy to modify for a number of purposes.
Regarding the ruling, Jaguar Land Rover Legal Director, Keith Benjamin, said: "The success of our business is based on unique design and engineering attributes, and we intend to protect the brand robustly around the world".
What really makes this ruling important is the precedent it sets for companies like Ineos, which had previously harboured intentions of resurrecting the discontinued Defender on Land Rover's behalf.
More recently Ineos told Auto Express it could instead create an off-road vehicle from scratch, which would capture the essence of the original Defender rather than replicate it.
Still, the ruling is a major shot across the bow of anyone toying with the idea giving new life to the old Land Rover workhorse. Land Rover is being particularly protective of the Defender's legacy, given an all-new version is expected to emerge in 2018.
Read everything we know about the all-new Land Rover Discovery here.