Lexus plans "fun-to-drive" range revolution
Lexus cars will get "more dynamic and emotional". New Multi-Stage hybrid tech on the LC500h is "just the beginning".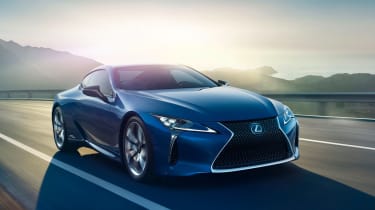 Lexus has undergone a radical exterior design revolution in the past few years, but now senior executives are telling us to expect forthcoming models will "become more emotional and dynamic" to drive.
The LC500h debuts a brand-new 'Multi Stage Hybrid' petrol-electric powertrain. It uses a combination of the familiar CVT transmission and, uniquely, a newly-developed four-speed torque converter automatic gearbox.
Chief Engineer Koji Sato told Auto Express this was necessary to remove the "feeling of disconnect because of the way the engine speed rises and falls at odds with the vehicle speed". The Multi Stage system uses a combination of physical and artificial gearchanges to simulate a ten-speed automatic 'box. Sato reckons the changes will feel real and instantaneous.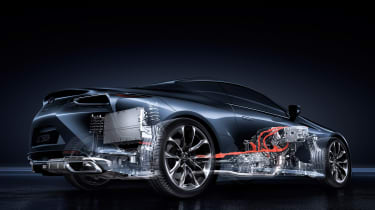 Sato claims that it gives the powertrain both a "unique character" and "better response". He told us: "The hybrid system is not just for an eco-device anymore, it can be fun to drive. And this is just the beginning for Lexus".
The new rear-wheel drive GA-L modular platform used in both the hybrid and V8 LC coupes is a project five years in the making. It's designed to allow a very low centre of gravity, a front-mid engine layout and is claimed to give the stiffest underbody Lexus has ever created. The LC also gets aluminium body panels to save weight.
The platform was originally brought about by Akio Toyoda who decided, at the launch of the current Lexus GS, that there was "something missing" from its model range.  The platform, Sato promises, will "help to elevate driving dynamics for future models",
The modular platform, and eventually the Multi-Stage hybrid powertrain, will be used on a number of models in the next few years – expected to be the next generation LS and GS saloons. The LC could also join the RC and GS in receiving a hot 'F' makeover, but Sato refused to be drawn into specifics. "We have enough torque capacity for this transmission. That is all I am going to say [about an F model]," he added.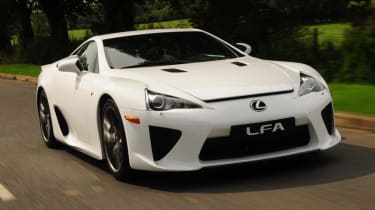 Head of Lexus Europe, Alain Uyttenhoven, made bold statements about the new hybrid system, saying: "The Multi stage hybrid will bring our hybrid powertrains into a completely new dimension. We are going to bring it fully into the domain of driving pleasure, with much more power, much more traction and greater efficiency".
The LC500h will also be the firm's first hybrid that can "light up its 21-inch rear tyres from a standstill" thanks to instant petrol engine response. Although no specifics were given about the top speed of the LC500h, Uyttenhoven claimed that, "you will be able to drive a lot faster than with our current hybrid cars".
There's bad news for fans of the Lexus LFA supercar however, as confirmed that a "super-high end machine is not what we need right now". He stated that it is now "clear that we can create similar emotion in more attainable cars, so that is our focus right now".
Read the full story on the new Lexus LC500h here...