Lexus GS (2005-2011) review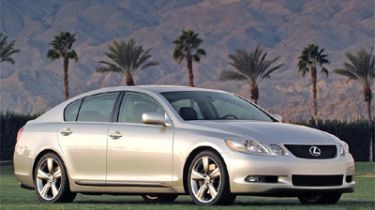 It's been easy until now to ignore the Lexus GS. Without the badge or image of rivals such as the BMW 5-Series and Audi A6, it's appealed to only a very selected minority. That's why today's car is so sporty-looking and different from the rest. Lexus wants you to consider this a must-have car. Certainly from the outside they've succeeded. It's a four-door saloon with a decidedly coupe-like profile and a hunkered-down sporty stance, and rewards inside too with a flawlessly-finished, modern interior. The dials glow behind dimming glass covers to provide a unique treat, but wherever you look or touch, there are indulgent trims and stylish design. It's a shame, then, that the seats are mounted too high to truly feel sporty, while those in the rear may find their feet a little cramped. But as is usual for Lexus, there's a stack of equipment to distract them, including the trademark brilliant stereo, plus six-speed automatic gearboxes, Xenon lights and climate control on all.
There are just two engine options. The 279bhp 4.3-litre V8 tops the range and, with acceleration to 60mph in 6.1 seconds, is fearsomely fast but rather remote. It features grabby 'brake by wire' anchors which allow it to offer a very advanced stability control system, but as it cannot crack 25mpg and costs nearly £50k, it won't be a best-seller. Most will choose the 245bhp 3.0-litre V6 GS 300, which is more economical at 29mpg, if still not as good as a BMW 530i - or, with 60mph taking 7.2 seconds, as fast. It's exceedingly smooth and refined though, and the auto gearbox slurs upshifts (if proving les impressive with downshifts). It handles very competently once you accept the light, over-assisted steering, but the ride can be lumpy at times and road noise isn't as well-suppressed as you'd expect, particularly on 18-inch wheels. But it's still a very accomplished, good value car. But we can't recommend it for one reason - there is no diesel and Lexus says there never will be. In a class dominated by oil-burners, that's a serious flaw.
Engines, performance and drive
0
MPG, CO2 and Running Costs
0
Interior, design and technology
0
Practicality, comfort and boot space
0